This news is a big surprise for all of us. Suzanne Mitchell who replaced a squad of high school bobbysoxers with a cheesy chorus line which became a choreographed global brand called the Dallas Cowboys Cheerleaders died on Tuesday in her home situated at Fredericksburg, Texas. She was of 73 years old.
W.W Mitchell who happens to be the brother of Suzanne Mitchell said the reason of all the complications was because of pancreatic cancer.
Suzanne Mitchell Who Made Dallas Cowboys Cheer Leaders A Global Brand Dies At 73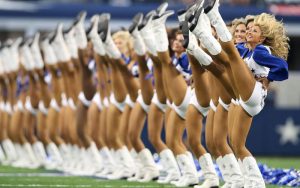 Suzzane was an administrative assistant to the Cowboys original president and general manager, Tex Schramm when the team office was swamped with calls after one of their cheerleaders was captured winking suggestively.
Maybe, Tex Schramm figured out that cheerleading was more than what it just met to eye. He immediately capitalized it on the emerging synergy between professional sports and television by enlisting performers on the sidelines to complement players on the field.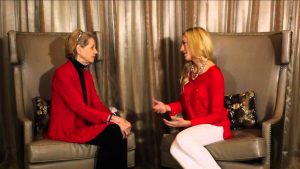 He designated Ms. Suzanne Mitchell who was a former public relations executive from New York to turn the team's fusty cheerleader squad. She then proceeded to more than double its size from 14 and gave them skimpy new costumes, hired a choreographer whose name was Texie Waterman and staged a photo session for a pinup poster.
Suzzane Mitchell created which became a pop culture phenomenon. A new era in branding, marketing and sports entertainment had begun.
Edward J.Rielly in his "Football: An Encyclopedia of Popular Culture "declared them the most famous group of cheerleaders in the world. The Cowboys revamped cheerleading squad which kicked off the 1978 season of Monday night football with a television special titled as The 36 most beautiful girls in Texas.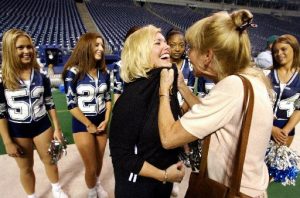 They even went onto appear on the television series 'The Love Boat". The even appeared in a commercial for Fabergé Shampoo. They inspired a 1978 pornographic parody named as "Dennie Does Dallas" which prompted a lawsuit from team officials. They also inspired 2 TV Movies.
Suzanne Mitchell original roster of cheerleaders was included among Esquire Magazine's 75 Great Women Of All Time along with Marilyn Monroe and Joan of Arc.
Image Sources: Image 1 & Featured Image, Image 2, Image 3.