Bangalore is one among the few cities in India, which is an interesting merge of modernity and tradition, of the old and new, of both fun as well as responsibilities. One upon a time the nightlife of Bangalore was the envy of several other cities in the country, however, with very strict regulations the party life in Bangalore is now restricted to 11:00 pm on all the days except for Fridays and Saturdays when the party is allowed to go on until 1:00 am.
One among the best time to party in the city is on the New Year's Eve. As everyone joyfully bids adieu to the year and looks forward to a very new beginning, Bangalore also comes alive with a new beginning!
Let's see some of the party places which have rocked the New Year celebrations always and made it special for many with their friends and family or that special someone-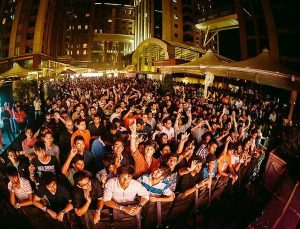 1. VIP Affair, UB City Arena
Undoubtedly, this is one among the hottest parties which takes place in Bangalore on the New Year's Eve. The VIP Affair, which took place at the UB City Arena had encouraged everyone on 2015 to get their party dresses out and head for a perfect evening of style, glamour and fun. The DJ performances included noted names like Iria, Zaden and Answer. Many fun activities included 3D projections, fireworks and much more.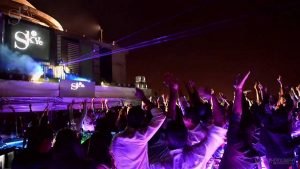 2. Skkye, UB City
One of the most glamorous lounges in the city, Skkye in UB City which is located on the 16th floor and is a true definition of indulgence, be it the awesome ambiance or the delicious food or the most stunning views of Bangalore. It is recommended to visit this place at least once in the year to remind how beautiful the city looks from such a vantage point! And the best time to appreciate the finer things in life is none other than the New Year's Eve.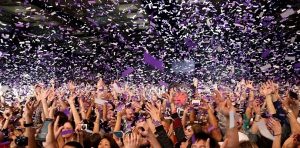 3. A-List NYE 2015, Aloft (Whitefield)
It is one among the interesting hotel parties which takes place in Bangalore on the New Year Eve. Aloft is undoubtedly stands apart. 2015's party DJs like Elden, Avinash and Tathagat made the audience groove all night long! Many interesting activities included dance troupes, fire dancers, 3D projections and much more! They also had special activities for children, so many parents had their kids along with them!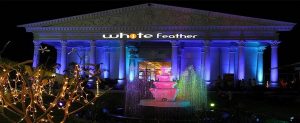 4. White Feather Banquet Hall
Located on the junction of Electronic City-NICE Road, this place looks like an opulent wedding set-up from the outside. But you will be amazed on the New Year's Eve as it has one of the most happening DJs belting hit tracks for the Big Bang Bollywood, like DJ Suketu. People who love remixed Bollywood tracks, headed here and danced all night long.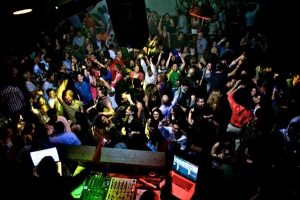 5. Hyatt (LIDO Mall)
The Hyatt hotel is renowned to provide an interesting setting along with an exciting menu for most of the day, but the New Year's Eve is even more special with multiple events. The Ignite 2015 was held at the Liquid Lounge, Hyatt that promised foot-thumping music, theme of glow-in the dark, beverages and a large buffet spread. The NYE 2015 was a poolside party which was also a wonderful option to welcome the New Year with friends and family.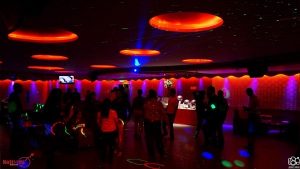 6. No Limits Lounge and Club
Located on Brigade Road, the No Limits Lounge and Club threw up a party with high decibel musical with both global and Indian tracks, played by DJ Mr. GOF and DJ Rebirth. Other entertainment activities like fashion shows, dance performances, caricature and tattoo artists were also organized.The dance floor is wonderfully spacious and for sure is a delight.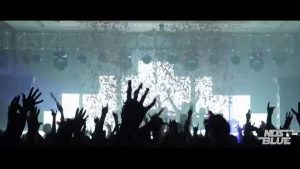 7. Invasion, Chancery Pavilion (Residency Road)
Considered as the night of the invasion, not talking about aliens, but about great music and entertainment. The New Year's event featured eight artists and two stages, which provided multiple genres of music and dancing experiences to the audience. They surely set the energy level at explosive with their music.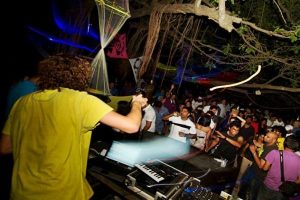 8. Pebble – The Jungle Lounge
Very popular lounge in Bangalore city, Pebble had thrown a gala bash last year DJs providing international and Indian music. Many other entertainment activities like light and sound show, firework show, etc. are also eye catching.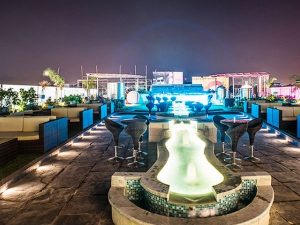 9. Barleyz
The brew house which is located opposite to Oasis Mall, scores very high on the perfect ambiance factor. It is open to the sky, with a large and spacious place which offers a variety of delicious foods and beverages. The New Year's Eve at the Barleyz offers perfect a rooftop party with great music and awesome food. Other entertainment activities also ensures to keep the family audience happy, which also kids.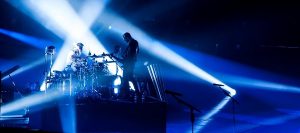 10. Vivanta By Taj (Yeshwantpur)
Can assure that entertainment cannot get larger than this! This New Year's Eve at Taj is one of the hottest parties held in Bangalore; known as the Las Vegas. This event promised to recreate the electric vibe similar to that of the party destination, Las Vegas right in the city Bangalore. Performed by international dancers, fire dances, fashion shows, a perfect casino setting, jazz band and many activities even for kids.
This list is definitely limited, but there are many more parties organized by the many hotels like Taj, Marriott, Aloft, Zuri, Le Meridian and the many other lounges and pubs. So what are you waiting for? Explore your right option.
Image Sources: Image 1,Image 2, Image 3, Image 4, Image 5, Image 6, Image 7, Image 8, Image 9, Image 10, Featured Image.