Who do you think can resist a plate of those crunchy pakoras over a perfect rainy evening with some hot tea to sip along? I feel there is no one who really can resist a pakora, isn't it? India is happy now as after those long hot months of summer finally the monsoons have arrived. And the best part of this arrival is that it also brings with it the season hot and crunchy Pakoras.
Crunchy Pakora With Chai And Monsoon
I feel in India almost each and every person starts craving for pakoras as soon as the rain hits the Indian floors. The smell of that very first rain is so enchanting, I feel this connection of the rains, pakoras and a cup of hot tea is a match made in the heaven above. Almost all of you would agree with me on this point won't you?
Delhi A Foodies Paradise
Do you know? Our capital is a paradise for foodies in all senses. Be it street food or any international cuisine our Dilli will blow your mind off with their scrumptious varieties of food. The best part about this city is that it can offer each and every one something which is their favourite. And that person will not regret about the taste as that food is going to be delicious for sure. There are endless number of choices one can make depending upon the pocket of course.
Eat Delicious Pakoras in Delhi Right Here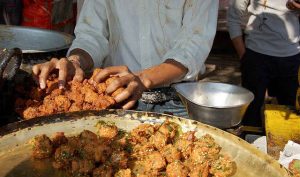 Be it the rains or the winters Pakoras is an all-time favourite for almost everyone. And the best part about pakoras is that it gets easily paired with the cool winters and the lovely monsoons of Delhi.
A Wide variety if pakodas can be relished in our capital, be it veg of non-veg you can find your favourite one in the menu for sure. Bread Pakora, Mix Pakora, Fish Pakora, Paneer Pakora and chicken pakora are some of the all-time favourite pakoras.
Today I shall talk about some legendary places in Delhi which serve some scrumptious variety of Pakoras. You got to visit them and I am sure you will land up asking for an extra dollop of chutney to perfectly enjoy your platter of hot Pakoras.
So here you go with the list of Delhi's 7 best Pakora Walas: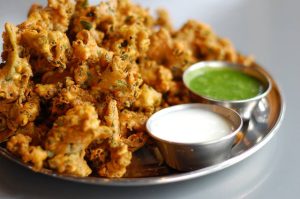 1. Khandaani Pakodewala
An age old shop which has been serving the pakora lovers since 1960s. Located in Sarojini Nagar this food joint fries pakoras almost all the day. They offer a huge menu of pakoras, some of the must try pakoras are Potato, Lotus Root, Spinach, Chilli, Eggplant, Cauliflower, Onion, Bread and Paneer Pakoras.
2. New Vishal Corner
Located in Nehru's place, the New Vishal Corner is one of the most popular pakora shop amidst huge number of electronic shops. In fact, it is also a landmark now. The New Vishal Corner is extremely popular for its hot and crunchy pakoras and even its mouth-watering kachoris.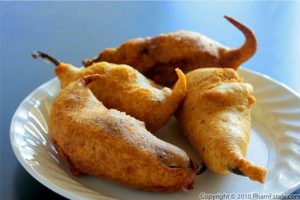 3. Pakore Wali Gali
Set in the Lajpat Nagar, Delhi. The Pakore wali gali is extremely popular place to be for all the pakora lovers. Their hot and crunchy varieties of pakoras paired with that spicy chutney is something to die for.
4. Senor Dhan Singh
At the Senor Dhan Singh bread pakoras is a must try, because that is their speciality. All that I know so far is that their recipe of bread pakoras is a very special one. The price for one bread pakora is Rupees 15, which isn't too expensive when it comes to the heavenly taste!
5. Mohan Pakora Corner
Located in Vivek Vihar this one is my favourite. A perfect place to be on a rainy evening. Nothing can beat their hot pakoras with chutney and tea of course.
6. Kakkar's Pakora Stall
A tiny-miny pakora shop located in Karol Bagh but is immensely popular. Almost every passer-by drops into this stall to taste their scrumptious pakoras. This is one of the oldest shops and the best part is that it's very cheap. Do try their Spinach and sweet Onion Pakora they are absolutely heavenly.
7. Paramjit Fish Pakorawala
Last in this list is an awesome option for non-veg lovers, specifically the ones who love fish. The Paramjit Fish Pakorawala as the name suggest sells crunchy fish pakoras which is something to absolutely die for.
So if you take your chai time snacking really seriously then do drop into these stalls and try they crispy, hot and deep fried pakoras with chutney! You too would love it seriously. If have any additions to make to this list, please leave us a comment!
Image Source: Image 1, Image 2, Image 3, Image 4, Image 5, Featured Image.