WhatsApp is currently the most popular application in Google Play and the App Store. Carrier Text messages died due to release of the software. It is estimated that if a person owns a smartphone he may or may not install Facebook or other utility apps but he will definitely install WhatsApp. Applications like Hike, Facebook Messenger, We Chat have tried to surpass WhatsApp. But like we know none of them were even close to deliver the experience which WhatsApp does. Amidst all of this, Google Allo has arrived.
Like we all know, Google has a tendency to destroy other's established markets by bringing in revolutionary products. Will Google be able to outclass WhatsApp? Read below to find out.
Google Allo Launched, Big Threat For WhatsApp?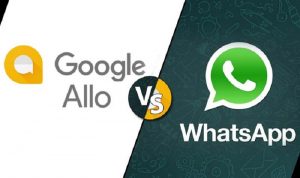 1.The first major thing about Google Allo is that it is more than just a normal messaging app. It has Google Assistant which is capable of searching, machine learning to pitch better results which are way more accurate than other apps. You can pull it in the middle of a chat and ask it to look up for restaurants or movie timings. The application also gives auto-suggestion for replies.
2.It is also ahead of WhatsApp in terms of offering support for stickers and the ability to draw on photos and videos (This is going to be available on Android only). There is also a mode called Incognito chat which is end to end encrypted where the chats disappear after sometime. The user can pitch in the expiring time for each message in Incognito mode.
3.Apart from all this Group chats are also supported on the application and the user could also send free SMS to people those who do not use Google Allo. The replies from the SMS would be displayed on Google Allo.
4.This was the good stuff about Google Allo. The biggest problem regarding Google Allo is privacy concerns. It is not an end to end encrypted application and Google would be storing all your chats with Google assistant on their servers. From a privacy point of you the application is definitely not perfect. As of now, Google Allo doesn't support file sharing like WhatsApp or telegram.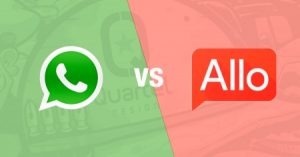 5.Well, these were the pros and cons about Google Allo. If you are a Google fan, then you are going to download it anyway. The major problem with Google Allo is WhatsApp and Facebook which has over 1 billion active users. Will it be able to stand against these giants? Time will tell. But if you ask us, then due to non-file sharing and privacy concerns WhatsApp is still the best option available for chatting.
Image Sources: Image 1 & Featured Image, Image 2, Image 3.