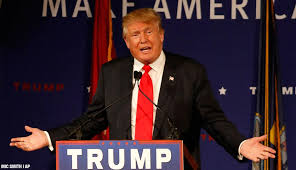 Here are some of the famous quotes from the rich American and the one running for US presidential election, "Donald Trump".
"You know, it really doesn't matter what the media write as long as you've got a young and beautiful piece of ass."
"They (Muslims) are not coming to this country if I'm president. And if Obama has brought some to this country they are leaving, they're going, they're gone."
"When was the last time anybody saw us beating, let's say, China in a trade deal? They kill us. I beat China all the time. All the time."
"India, China are taking Americans' jobs. I am going to win the Hispanics because they know I am going to bring back jobs, from lots of places including India and China and lots of places, that are taking our jobs."
"India is the check to Pakistan, you have to get India involved … They have their own nukes and have a very powerful army. They seem to be the real check … I think we have to deal very closely with India to deal with it (Pakistan)".
All the above quotes belong to an American businessman, a media personality, and a presidential candidate of America's Republican party: Donald Trump.
Trump has his own mindset and vision. He profoundly expresses his ideas and thoughts about the whole world. You may or may not like Trump, but you cannot ignore him.
The Trump's Legacy
Born in 1946, Trump began his business career with his father's real estate company. After construction, he spread his business in marketing, branding, licensing, sports, and so on. As a Democrat, he has started his political contribution since 1987. After switching his support to the Republican party in 2012, he declared himself for the USA presidential candidate.
The Election
Donald Trump, with a slogan: Make America Great Again, is fighting the presidential election against an array of big political names including Hillary Clinton, Bernie Sanders, Ted Cruz and so on. A riveting speaker with his questions on Muslims with Obama, expressing his daring views about other countries, he is gaining popularity everywhere in the USA. He has a clear edge over other candidates.
The Ideology
Trump, apparently, belongs to a non-political class that does not believe in appeasement politics, and has nothing to lose. His counterparts often say, he needs to confine some of his views to himself. While, a large fraction of the US population thinks that conspicuously, he is very right on some of his concerns, for instance, trade with China, dealing with terrorism, and for the welfare of Americans (jobs and compete with other countries).
The world is waiting for the election results of its most powerful democracy. Trump is a patriot or a madman or merely a businessman; this picture will be cleared afterward the elections. Interestingly, he has changed the rules of a political election in the US and of course this will percolate on the World's politics.
Image source: Featured_Image , Image1, Image2