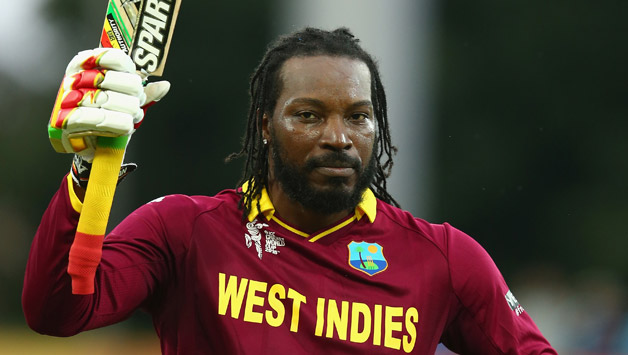 The West Indies Coach Phil Simmons is right on the button when he mentioned during the post-match media interaction that Chris Gayle could be compared to Sir Vivian Richards' destructibility after witnessing the way hapless English bowlers were pulverized into submission.  Is he then the modern day's most destructive batsman, especially in the abridged version of the game?  You need not look anywhere around for an answer!  Indeed Gayle qualifies by some distance to be anointed, rightly at that, as the most destructive batsman amongst the present lot for his sheer ability to turn the fortunes of a match single-handedly.
You are not only left wonderstruck at the amazing gifts of this man's impactful disposition but also the ease with which he produces transformational innings after innings so very nonchalantly on the world stage.  Chris Gayle not only demoralizes the bowlers in his inimitable manner but also imposes psychological scare on the opposition for a sustained period of time with his brute stroke-making abilities.  No target appears safe when the lanky marauder unleashes his repertoire of strokes which actually makes the field restrictions and boundaries redundant.  Torrent of fours & sixes seamlessly flows from his broad bat nullifying any set game plans opposite teams might have against the man.  No wonder, his mere presence ensures huge respect and expectations in equal measure.
Make note that no other present day players, representing across the cricket playing nations' in T20s, has in their ranks someone nearer to the stature of Gayle.  Don't be surprised if other teams' nurture unambiguous yearning to possess even a half statured Gayle in their midst to leave an impact on their fortunes.  Chris Gayle is a complete package of clean hitting, fearsome power, awe-inspiring on-field persona and most importantly possesses remarkable charisma to draw humongous crowds onto the stadiums in anticipation of unadulterated fireworks.
If Chris Gayle succeeds in sustaining the form he is in, the West Indies holds more than a reasonable chance to lift the coveted World T20 title.  Till then, let's hope the modern day destructive entertainer continues to showcase uninhibited talents on the world stage.