The Bharatiya Janata Party prides itself in calling as a national political party with a difference most often comparing it to the Grand Old Party of India which gets besmirched and berated for encouraging dynastic rule. The BJP never let go of an opportunity to highlight the party as cadre-based where merit and hard work alone ensures appropriate recognition and acknowledgment whilst choosing leaders for important roles as well as assignments. The saffron brigade traverses any extent in decrying the Congress as the one Family party needs no further elaboration. Reason unknown to us, the Congress too has consistently failed to provide an impression or initiated suitable measures to counter such innuendos emanating from the other side.
PC: V.V. Binu
Undoubtedly, the BJP is endowed with a strong cadre-based organization structure with great importance accorded to grass-roots level workers trained and groomed to take on the opposition might. No wonder, the perpetual election churning in the country is evenly matched by the BJP's relentless electoral machinery working tirelessly round the year. Come election time – whether Parliamentary, legislative assembly or Panchayat – the party is never found wanting in navigating full throttle with even the national level leaders electioneering for municipal corporation seats. Such is the zeal and untiring efforts that go into the preparations of the BJP during elections.
Delving further, one of the most visible trends bogging the political landscape of the country is the dissidence activities from the ambitious, aspirational, and disgruntled leaders who succeed in keeping the leadership on tenterhooks. It gets further muddied with the increasingly disturbing phenomenon of political leaders shifting allegiance and ideologies hopping from one party to another like consummate actors. These turncoats expect instant elevation in the form of plum ministries or corporations or boards often resulting in dissidence activities. Irrespective of party affiliations, the old guards sulking and disenchanted with the unfolding events, not to their liking are bound to indulge in anti-party activities further queering the pitch for the party mandarins.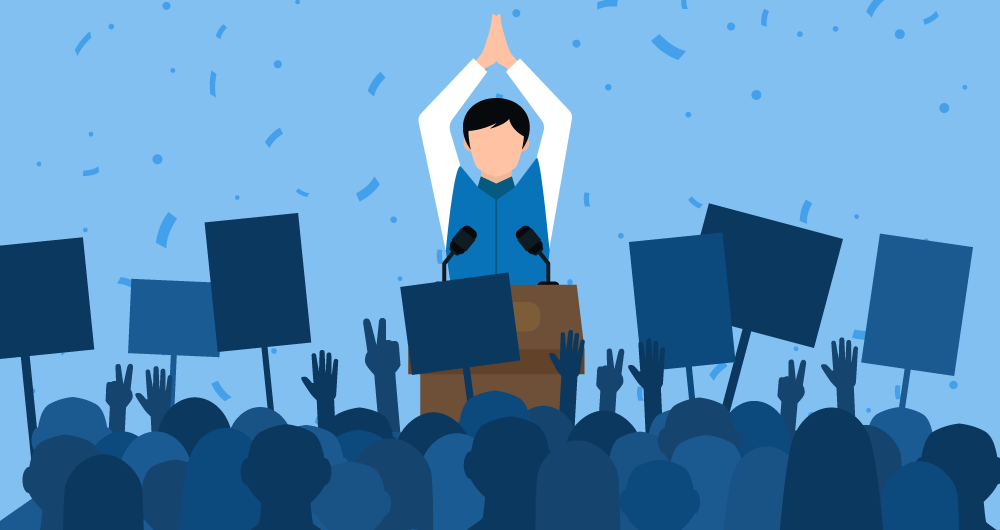 PC: B.PAC
Defectors joining the ruling party and subsequent awarding of plum ministerial portfolios is destined to cause further heartburns amongst the loyal lot, which is a sure-shot recipe for disaster if left unchecked. Keen political observers would have noticed insider-outsider debate within the party echelons sometimes taking an unexpected turn for worse. Incidents playing out in Karnataka, Uttar Pradesh, Gao, Gujarat, Tripura, and West Bengal is a pointer to how dissidence pans out much to the detriment of the ruling dispensation. However, the BJP is much strongly positioned vis-à-vis the firm handling of the dissidence activities as compared to the Congress.
Infighting for supremacy in Congress is quite rampant with no signs of the leadership cracking a whip to subdue the growing indiscipline. Look not far than Captain Amarinder Singh and Navjot Singh Sidhu sparring in Punjab Congress. Elsewhere, there is a G-23 – moniker for 23 Congressmen demanding organizational transformation – which is posing a constant questionnaire to the leadership on matters concerning the party's present path and demanding a comprehensive roadmap to remain relevant. Of course, where the BJP scores are the way the decisive Central leadership acts on matters concerning dissidence. No dissidence leader dares to take on the Central diktat. And that is the difference between the BJP and the Congress