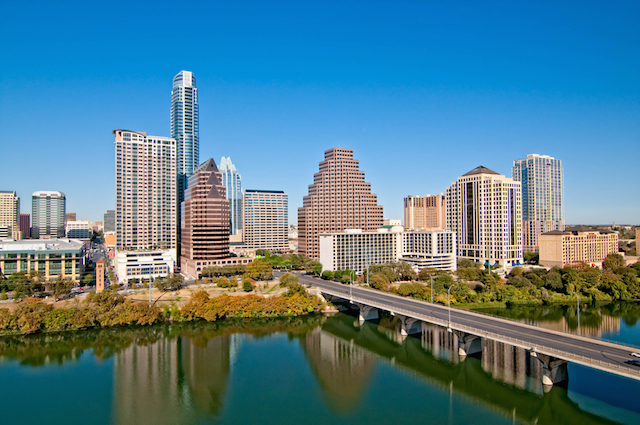 Texas: The Lone Star State, home of the Live Music Capital of the World, where everything is bigger, where near everything is better, and where the word "pride" may just not cut it. This true Southern state is not just great in size, but in countless other areas as well: a variety of nature, a whole country's worth of weather packed into one state, tons of things to do, plentiful places to explore, and, of course, its rich and unique history.
1. Fredericksburg
This uniquely German city in Gillespie County, Texas, did well in nearly all of our criteria, but when it came to weather, unemployment rate, a median home price of $204,700, and education, this city did simply wunderbar.
2. Midland
Midland may well be the quintessential West Texas city. Not only is this historically oil-based city the hometown of none other than previous First Lady Laura Bush, but in our analysis, it scored major points for the lowest unemployment rate in the state-just 4.1 percent-and for its shorter than average commute time of just 19 minutes.
3. Levelland
Also located in West Texas, Levelland ranked well in our analysis for its relatively low cost of living-a 78, compared to the average of 100; a low student to teacher ratio of just 13 to 1, and some of the best weather in the state.
4. Hereford
Hereford may be known as the Beef Capital of the World for its large number of cattle fed in the area; it also known locally as the Town Without a Toothache for its high level of naturally occurring fluorine in the water (don't ask); but after our analysis, it may want to add "Coolest City in Texas" to its list of names.
5. New Territory
New Territory may be appropriately named, as in this analysis at least, it is certainly breaking new territory-especially when it comes to affluence. With a median household income of $115,373, New Territory was among the best-paid in our analysis
6. Pampa
Located just about as north as you can get in North Texas, it may not be surprising that this city of nearly 19,000 ranked well for a low summer temperature, averaging at 75 degrees, and clear skies, with an air quality score of 21 (the lower the better). What may be surprising, though was that this city ranked as the very highest in our analysis for quality of life.