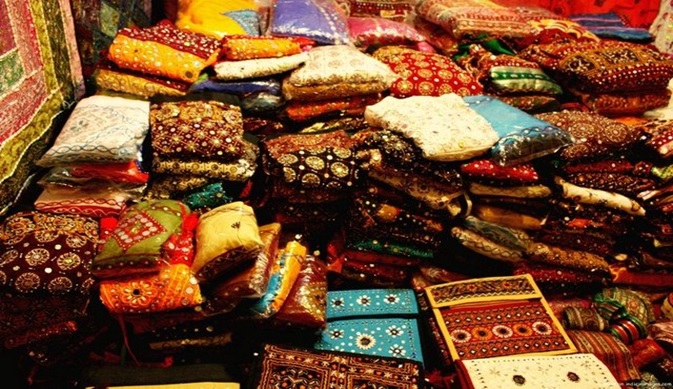 In India, Gujarat is considered to be one of the best places for shopping, as you get to choose from arrays of crafts and textiles. Even the most reluctant of shoppers will find it impossible to resist picking up beautiful handmade fabrics, woven shawls and rugs, intricately patterned beadwork and mirror work, tie and dye scarves, shawls, clothes and unusual tribal silver jewelry. Gujarat is a place that has got worldwide recognition for its traditional handicraft items. The exuberant shopping places of Gujarat are simply irresistible. You will be bound to pick something or the other, as a memory of your trip. You will surely be spoilt for choice in Gujarat.
Some of Gujarat's specialties are:
Patola Silk Sarees
Bandhnis and traditional Gagra-Cholis
Embroidered, Appliquéd Quilts
Bangles
Khadi
Jewelry
Handlooms and Handicrafts
Following is the list of some famous shopping places in Gujarat where you can shop.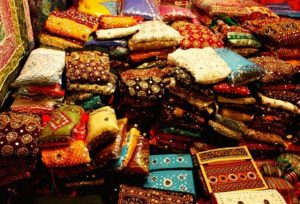 1. Law Garden Market, Ahmedabad: one of the best places to buy Gujarati traditional wear. The market sells a wide variety of the famous mirror work clothing and textiles that Gujarat is famous for. Most of the clothes are made in Rann of Kutch area. The Bead & mirror-work is all done by hand, and is quite exquisite.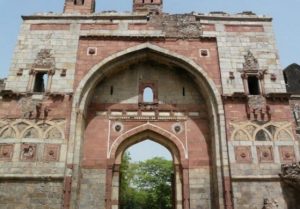 2. Lal Darwaja, Ahmedabad: Lal Darwaza is the much crowded place with lots of hawkers selling various items, such as from clothes to electronics. It is the most popular and busiest shopping hub in the city. One can buy sarees, gents and children garments, shoes, Chaniya choli, books, wallets and many more.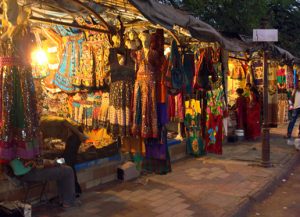 3. Dhalgarward /Teen Darwaja, Ahemdabad: Dhalgarwad is famous for its traditional garments, sarees, dress material, Chaniya choli and others at very reasonable rates. One must be aware of the low quality materials. One can find a diverse variety of clothing at Dhalgarwad. Woodcraft of Surat, Kutch and Saurashtra is quite popular and easily available at Teen Darwaza.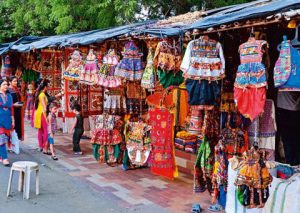 4. Sindhi Market, Ahemedabad: Sindhi Market is another very famous place for shopping sarees, bed sheets, dresses, dress materials and traditional items. Revdi Bazaar is a famous textile market place nearby for shopping lovers.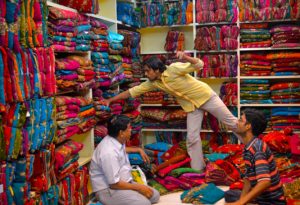 5. Rander Road, Surat: Rander Road is known for its clothes in Surat. The market is always found bustling with both tourists and locals day in and day out.
6. Ring Road, Surat: Ring Road Market is frequently visited by not only the locals, but also visitors and tourists. You can get fashionable clothes, along with the traditional ones here.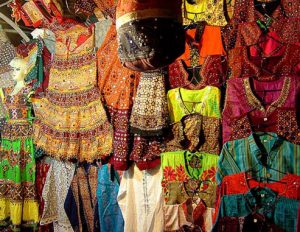 7. New Textiles, Surat: The textile market in Surat exports its beautifully ornamented saris to the Middle East countries. The international market demands more improvisations in the designs of the saris. New trends in the design of Zari embroidered, kinari work, gold or silver brocade. Saris are being introduced to capture the increasing demand of the saris in the international markets.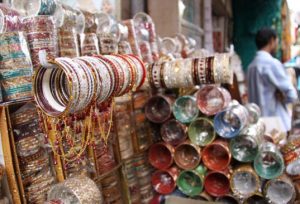 8. Rajkot: Rajkot is the 4th largest urban city of Gujarat. It is the fastest growing cities of the world with its impending industries and trade sector. The city is famous for its embellishing mirror and bead work, patch work, silk embroidery, Meenakari furniture, jewelry, bangles and watch parts. Traditional community gold and silver smiths displaying their wares can be seen here in Bangadi bazaar.
9. Bangadi Bazaar, Rajkot: Bangadi Bazaar a unique experience to shop in here taking you in narrow lanes, hundreds of tiny shops which are indistinguishable from each other. You will find glass bangles of every color and price range here in Komal Handicraft on main road. Beautiful peacock, lotuses and fish head enameled with Moti designed at super cheap rate.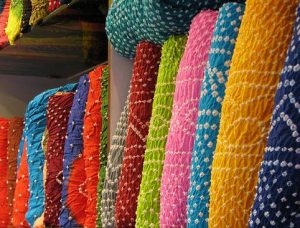 10. Jamnagar: Apart from the tie and dyes saris, shopping in Jamnagar will divert your attention towards manufactured articles such as paperweights made from agate, bangles decked out in brass, beetle nut crackers, Kajal, Kumkum, Surma, and brass enclosed wooden torsos whose prettiness will blow your mind. In short, shopping in Jamnagar is an out of the world experience in itself and the hurly-burly enclosing the studded shops augments the spirit of buying.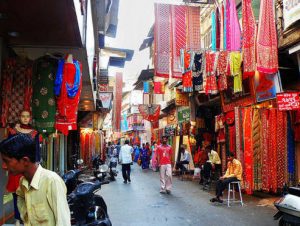 11. Gandhinagar Ravivar market: Gandhinagar Ravivar Market is a market open only on Sunday. The most important items that are found here are kitchen supplies, furniture, clothing, tools, hardware, used books, antiques, bedding, chicken and even goats. Besides, you also find all sorts of articles that might never come to your mind. Gandhinagar offers a great deal when it comes to art and craft. Shopping in Gandhinagar is considered incomplete if you don't buy Khadi clothing. At Sector 16 of Gandhinagar is located the Khadi Gram Udyog that provides clothing made of Khadi. It offers diversity in khadi products one may not get anywhere else in the country.
Shopping in Gujarat is an enchanting experience within itself. Shopping from the roadside vendor is also a fun experience, as you often find fantastic items at a good bargain. One of the best gifts that can be bought from Ahmedabad to take home is the superb variety of sweets. Gujarat's popular sweets like monthal, Boondi, Ladoo, Maghaz, Masoor, sukhdi, Rajkot and Bhavnagari Pedas and Surat's ghari stay for longer and can be carried through longer journeys. List of things on what to buy in Gujarat is endless. But, people certainly have a memorable time here.
Image source: Image 1, Image 2, Image 3, Image 4, Image 5, Image 6, Image 7, Image 8, Image 9