North Korea has threatened of pre-emptive nuclear strikes on the US and South Korea, as the two nations begins their largest ever military drills. This belligerent threat came in line with the usual rhetoric North Korea uses in order to denounce the drills.
A threatening alarm from North Korea!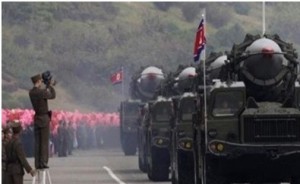 Renowned as 'Foal Eagle' or 'Key Resolve', these drills or the exercises involves more than 300,000 South Koreans along with 17,000 American troops. This type of annual event has always generated tensions. And this time, the order for a 'pre-emptive nuclear strike of justice', made by North's powerful National Defence Commission has raised threatening alarms for the US and South Korea.
Why North Korea threatened US and South?
North Korea actually sees these annual US-South Korean war games as a dress rehearsal for invasion on them! North Korea's National Defence Commission said, 'The North Korean army and people would realise the greatest desire of the Korean nation through a sacred war of justice for reunification, in response to any attack by US and South Korean forces!'
And, the North Korean commission said, 'The army and people of the DPRK (Democratic People's Republic of Korea) will launch an all-out offensive to decisively counter the US and its followers' hysterical nuclear war moves'.
Series of events!
The fourth nuclear test!
North Korea conducted its fourth nuclear detonation on 6th January, 2016. The media made announcements that the regime had successfully tested a hydrogen bomb. And, the earthquake caused by this nuclear test was around 5.1 magnitudes, similar to the 5.1 magnitude earthquake!
Reactions from the United Nation!
The Security Council held an emergency session on 6th January, 2016 itself in order to discuss the legitimacy and consequences of this nuclear test. Ban Ki-moon, Secretary-General of the UN considered the test 'profoundly destabilizing for regional security!' And, subsequently, the Security Council said that they would develop some new measures, presumably additional trade and travel sanctions, against North Korea.
UN new sanctions!
The United Nations Security Council voted on Wednesday morning so as to impose a broad array of sanctions against North Korea. It was done because of North Korea's recent nuclear test and missile launch. And, the resolution aims at crippling parts of the North Korean economy, which fuel its nuclear and ballistic missile programs!
Thaad anti-missile system!
South Korea and the US militaries had also began talks on Friday on the deployment of an advanced anti-missile, Terminal High Altitude Area Defence (THAAD) system in South Korea. Previously, US has even deployed it in Guam and Hawaii as a potential measure against all the potential attacks from North Korea! This move is strongly opposed by North Korea, Russia and China.