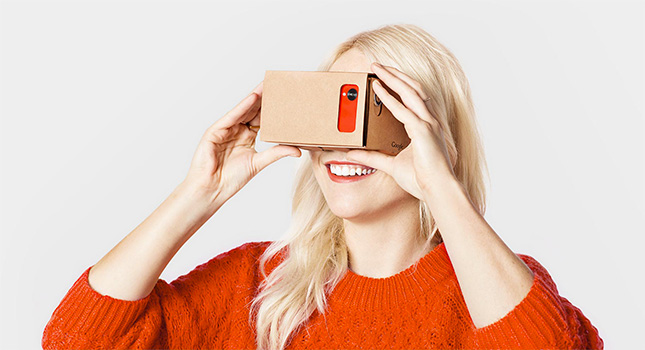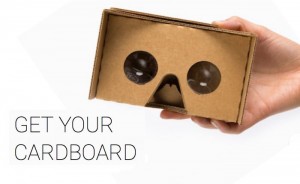 Google Cardboard is another creation of Google engineers to bring an innovative change in the world. The use of Google Cardboard is raised recently by youngsters as well as kids, and even by adults. Google Cardboard is a VR (Virtual Reality) platform developed by Google. It can be used with a smartphone to feel the VR through it. It is introduced as a low-cost device which can be bought by everyone who wants to experience the VR, and the reason behind it was the initiative to encourage people to VR and VR applications. It is so designed that even a simple person can make for himself by getting the required things.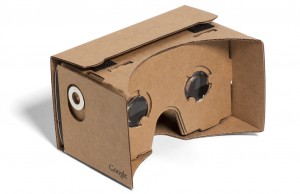 Google Cardboard was created by David Coz and David Henry, Google Engineers at the Google Cultural Institute in Paris, in their 20% "Innovative Time Off" and was introduced at the Google I/O 2014 developers conference for Android devices. You can see this small video below to know more clearly about Google Cardboard:
Google Cardboards are made up of low-cost components which can be easily available around the world. It was designed by Google but there is no official vendor or manufacture for the device. Google Cardboards are available on all leading shopping sites like Flipkart, Amazon, Snapdeal, etc. designed by other manufacturers on the basis of Google Cardboard, with a price around Rs. 300-500.
Requirements To Make Google Cardboard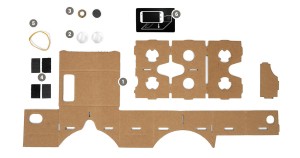 As there is no official vendor or manufacturer, Google made the list of parts, schematics and assembly instructions freely available on their official website.  These parts are a piece of cardboard cut precisely in shape, 45mm focal length lenses, magnets or capacitive tape, a hook and loop fastener (such as Velcro), a rubber band and an optional near field communication (NFC) tag. You can see this video to make Google Cardboard by yourself:
Things To Do After Assembling Google Cardboard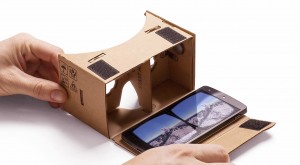 Once the kit is assembled, a smartphone is needed to be inserted in the back of the device. Google Cardboard, compatible app that splits the display into two, one for each eye, while also applying barrel distortion to each image to counter pincushion distortion from the lenses, has to be installed on the smartphone which is to be inserted. The result is a stereoscopic (3D) image with a wide field of view. To experience the VR reality, there are many applications in the Google Play Store which you can download and watch it for free on your smartphone.
Which smartphones are compaitable with Google Cardboard?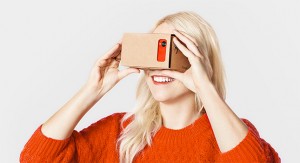 Google Cardboard, Version 1, can be assembled with smartphones with screen sizes up to 5.7" (140 mm) and used magnets as input buttons which require a compass sensor in the smartphone. After the success of Google Cardboard, Version 1, its Version 2 was released at Google I/O 2015 which can be used with phones up to 6" (150 mm) and replaces the magnet switch with a conductive lever that triggers a touch event on the smartphone's screen for better compatibility across devices.
Image Source: Image 1 Image 2 Image 3 Image 4 Image 5 Featured Image