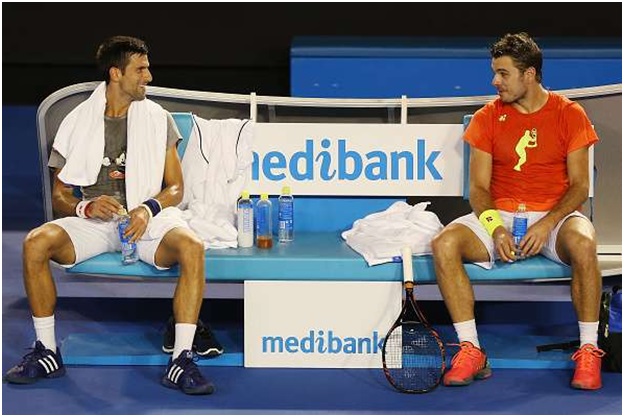 Switzerland's Stan Wawrinka has again beaten the World No. #1 and #1 seeded Novak Djokovic with a scintillating display in order to win the US Open 2016. It was his 1st US Open title and overall the third Grand Slam title. Wawrinka won the match by 6-7 (1-7) 6-4 7-5 6-3 in four sets. The 31-year-old displayed some of the brilliant shots hitting 46 winners in the match. Here is 5 facts you should know about Stan Wawrinka's career:
Stan Wawrinka – The Ultimate Winner!
1. The starting phase!
In order to focus full-time on tennis, Stan Wawrinka had stopped attending his regular schooling at the tender age of 15. But, he didn't left his studies and continued schooling by distance education. The French organization CNED had helped him by offering greater flexibility.
2. First ATP title!
In July 2006, at the Croatia Open Umag, Stan Wawrinka won his first ATP title. His opponent Novak Djokovic retired in the finals through fatigue. Thereafter in October 2006, he reached then career-high ranking of World No. #29.
3. The Olympic Gold!
The 2008 Olympic Games was one of the most memorable moments in Wawrinka's life. Wawrinka had teamed with his Swizz partner, Roger Federer in men's doubles. They went on to beat the favoured Americans, the Bryan's brothers in the semifinals in straight sets. Then in the finals, they went on to defeat Thomas Johansson and Simon Aspelin of Sweden to win the prestigious Olympic Gold medal.
4. An unbeaten finalist!
Wawrinka holds the amazing record of winning all the Grand Slams finals, which he has entered. His fans can proudly say, 'Three times a Grand Slam finalist; three times a champion!' Since June 2013, Wawrinka has proved his powerful presence and strong mind at all the Grand Slam finals around the world.
5. Career's highest ranking!
On 22nd August 2016, Stan Wawrinka has again achieved his career's highest ranking by becoming World No. #3. Before this, Wawrinka has earlier achieved the same #3 seed on 27th January, 2014. Currently, he has won Australian Open (2014), French Open (2015) and US Open (2016). Now, it clearly seems that Wawrinka will be aiming at bagging all the Grand Slams by winning the Wimbledon!
Also, he has become the oldest male winner of the US Open since 35-year-old Ken Rosewall in 1970!