Yes, the much anticipated Hollywood movie, Baywatch, now officially has its new villain! And it's none other than the Quantico star Priyanka Chopra. She is all set to join Dwayne 'The Rock' Johnson and Zac Efron in the upcoming movie 'Baywatch'.
Priyanka Chopra is all set to put India on the global map again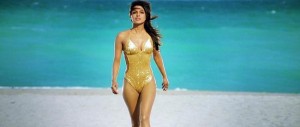 Priyanka Chopra is going to get bad as she is all set to make her Hollywood debut. It's with Baywatch, which is a movie based on a hugely popular 1990s TV series. Priyanka will essay the role of a baddie in this upcoming film. This movie will star popular actors like Dwayne Johnson, Zac Efron, Kelly Rohrbach and Alexandra Daddario.
Announced on Instagram by Dwayne 'The Rock' Johnson
The announcement was made by The Rock himself on Instagram, where he says "She's one of the biggest stars in the world… the beautiful Priyanka Chopra, welcome to Baywatch," The video was posted on Instagram, where he is with Priyanka Chopra at a beautiful sea beach and both look pretty excited.

Priyanka Makes An Official Announcement
Priyanka has gained immense international popularity after she played the lead in the American TV show Quantico. She made an official announcement on Twitter and also shared pictures on the Instagram.

Priyanka Playing Baddie in Baywatch
In the movie Baywatch, she will be playing the role of villainous Victoria Leeds. She made an official announcement of being bad in Baywatch. Dwayne Johnson also said in the video that Priyanka is insanely talented, relentlessly smokin' and extremely dangerous, which makes her perfect for Baywatch.

1990s most popular television serious Baywatch
Baywatch was one of the most watched TV shows globally. It was about the Los Angeles county lifeguards, who patrol the beaches of Los Angeles, California. After the first season on NBC the show was cancelled, but later it survived and became one of the most watched television shows in the world, staring David Hasselhoff and Pamela Anderson among others.
The shooting for Baywatch movie version with its cast and crew begin next week. Congratulations messages poured in for Priyanka from all over Bollywood. Let's now wait for some more fun news from the sets of Baywatch, well until we get to see the actual movie.
Image Source: Image 1, Image 2, Image 3, Image 4, Featured Image.