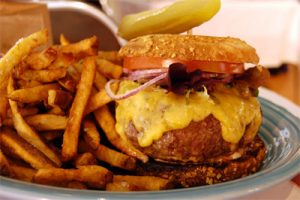 Coming from New York, a study has found that a high fat diet may give rise to thronging immune cells in our brain to become inactive and start consuming the connections between our neurons. However, if one comes back to a low fat diet for around 60 days (2 months) this can reverse the trend of reducing mental ability to stabilize and comes back to normal – the researchers said.
Author, Alexis M. Stranahan who is from Medical College of Georgia said that Microglia eating synapses is contributing to brain damage and mental ability reduction. Alexis mentioned that on one hand, this is very scary, but at the same time it is reversible. That means, if one can go back to a low fat diet that can removes the bulkiness, reverse these cellular process in the brain and maintain mental ability.
Why fat diet is not good for brain?
He said that the study provided first evidences so as to why fat diet is bad for the brain. The real trouble appears to start when too much of fat in the body starts producing chronic inflammation which activates microglia to have an autoimmune response.
Microglia, like macrophages in the body are known for their ability to absorb infectious and trash agents in the brain and their highly acidic interior gets rids of it, which helps in supporting the health and function of neurons.
As mice gets obese their microglia seem focused on overeating, he explained that normally in the brain microglia are constantly moving around their little fingers and processes, and when obesity occurs they stop moving. They draw in all their processes and they sit there and start eating synapses and when this happens the mice don't learn as effectively.
This was published in the journal Brian, Behaviour and Immunity.
Source: Zee News
Image Source: Image 1, Featured Image.