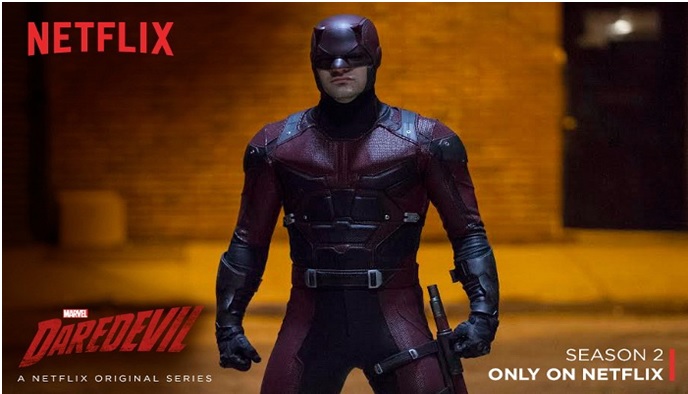 Are you ready to return to Hell's Kitchen? The Man Without Fear is back! Daredevil Season 2 of Marvel is now streaming on Netflix. Earlier, the first 2 episodes of the season premiered on 7th March, 2016 in Paris. And, it has now officially arrived on Netflix this Friday, with all the 13 episodes of it. So, here is a list of 5 most important things to watch out for, at least during the first few episodes of the season:
Daredevil season 2 arrived on Netflix!
1. The Punisher!
'Violence has its own consequences!' This looming message was clearly carried in the first season's every single scene, every line, and even every fight! Daredevil season 1 has made it clear to the audience that violence changes people and the damage it causes cannot be undone.
The first arc of Daredevil season 2 is an exploration of that idea only. The new season deals with the introduction of Jon Bernthal, The Punisher. He is a man who is so scarred by personal trauma that he starts equating justice with death. And, to that end, he starts believing that evil should not be locked up in a jail; but rather it should killed on the spot!
2. The stairwell fight!
What set the first season of Daredevil apart was the amazing one-shot hallway fight scene! And, the second season also features an equally jaw dropping and breathtaking fight sequence. The scene can't be truly defined and described here; but one needs to experience it!
3. A faster pace!
The first season of Daredevil had a nice and slow burn for itself; but season 2 starts off with a bang and one after the other, it keeps on giving the hits!
4. Jessica Jones!
Marvel has an ultimate plan to eventually connect Daredevil, Jessica Jones, Luke Cage, and Iron Fist, with a Defenders team-up series. The 5th episode of Daredevil season 2 brings word of Jessica Jones, when Elden Henson aka Foggy Nelson's frenemesis Amy Rutberg aka Marci gives us a scoop about the vigilantes that pops up all over the city.
5. The fight scene of Elektra!
Elektra has elegance to her fighting style. She is really nimble and graceful too. Instead of a one-punch knockout, she takes down an opponent with a series of intricate moves! We get to see her fighting moves in 6th episode, where she will team up with Daredevil!
Also, a reboot of the rain scene from the Daredevil movie is worth watching in the 2nd season of the Daredevil.
Image Source: Image1, Image2, Image3, Image4, Image5, Featured