Do you love to travel? Of course, we all do. But there are things you need to consider before scheduling your travel. The foremost is the airport landing. Many airport landings are dangerous and can give you goose bumps. But what can be the reason behind  dangerous airports landing ? It may be the physical and environmental factors like short runways, difficult approaches, high altitudes or the unpredictable weather is the major reason.
Let's have a look at 10 most dangerous airports in the world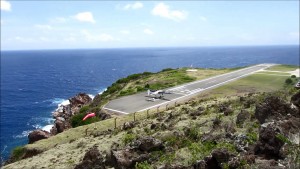 1. Saba Airport
Saba Airport has the world's shortest commercial airport runway. Isn't that exciting to know that it has a runway which is just 400 meters (1300 feet) in total length. Situated 28 miles south of St. Maarten, Saba Airport can be considered as one of the most dangerous airports for landing. Make sure you have the best pilot with you to land your jet there.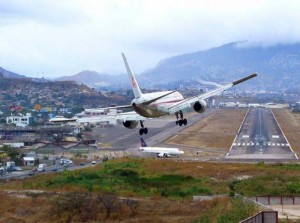 2. Toncontin Airport, Tegucigalpa, Honduras
Toncontin Airport is one of the most dangerous airports because of several reasons. It is situated in a valley 3,294 feet (1,004 m) above sea level. The pilot has to move the plane to 45degree bank to effectively reach the 7,000-foot runway located in a valley. Since the airport is surrounded by mountains, passengers feel a quick drop in altitude since the plane has to line up with the runway. There are several quick decisions which pilot takes while landing.

3. LaGuardia Airport in New York City, U.S.A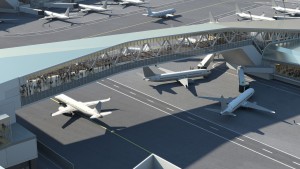 LaGuardia Airport is very closely located to two other extremely busy airports JFK and Newark. So pilot has to make sure that there is no interference from other flights while landing or taking off time. Another point that can make your journey thrilling is the presence of Flushing and Bowery bays near the airport. Still not enough reason to get nervous? If you see the airport's location, it will show you that it is located just eight miles from the city of Midtown Manhattan.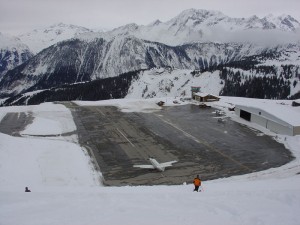 4. Courchevel International Airport in France
Courchevel International Airport in France is best known for its shortest runway which is just 525 meters long. Here you will definitely have a nail-biting landing experience as before landing pilot has to navigate the popular Alps Mountain. Not even this much, before landing, the jet has to touch down at inclined angles just to slow down.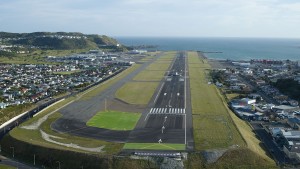 5. Wellington International Airport in New Zealand
The best and most thrilling part of Wellington International Airport is it starts and end in crystal blue waters. The length of the runway is just 6,351-foot. Little mistake done by the pilot can bring you very close to death.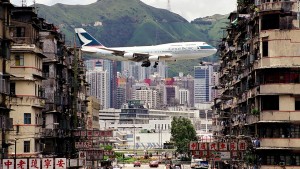 6. Kai Tak Airport in Hong Kong
Kai Tak Airport in Hong Kong is considered among such airports which have the scariest experience of landings and takeoffs. There are strong crosswinds and mountains that make it very difficult for pilots to manage the jet. Aircraft pilots have to take special precautions while they are making a landing or taking off of the plane.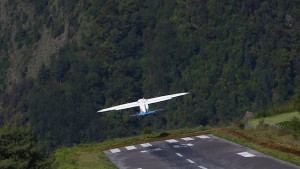 7. Lukla Airport in Nepal
Lukla Airport in Nepal gives you hair-raising landing experience which you will remember throughout your life. Lukla Airport, which is now renamed to Tenzing-Hillary Airport in honor of two people who first conquered Mount Everest, is located at an altitude of 8,000 feet (2,438 m) with no modern air traffic control features. In fact, it doesn't even have lights, with very little electric power.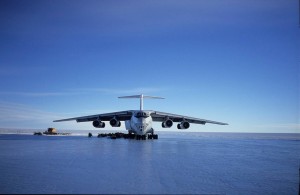 8. Slippery landing on the Ice Runway in Antarctica
We all know that how cold Antarctica is. Because of such an extremely low temperature, there are no paved runways in Antarctica. This fact is enough to explain how difficult it will be flying a plane in such a place. The weight of the aircraft is a real challenge as it should be such that it doesn't crack the ice landing strip. There is also a danger of the plane getting stuck in the ice. Make sure you plan well before visiting such place.

9. Princess Juliana International Airport in St. Maarten

Princess Juliana International Airport in St. Maarten is one of the busiest airports we have in the Caribbean. The landing of the aircraft is not so easy here. Before landing on the runway, the pilot has to cross little part of the beach, cross the fence, then road and then finally land on the runway. Basically, large aircraft need at least 8,000-foot landing strip to land safely, but here landing strip has been just 7,150 feet long.
10. Paro Airport in Bhutan, Himalayan Mountains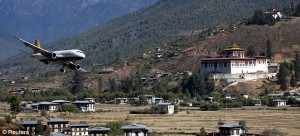 Paro Airport in Bhutan is on top of the list of top 10 most dangerous airports in the world. You can feel the level of danger here by knowing that only eight pilots are qualified to land here. Paro Airport is 1.5 miles above sea level and surrounded by sharp peaks of up to 18,000 ft tall with just 6,500 feet long runway. This is really a breathtaking experience for passengers.
These dangerous airports will definitely bring thrills and excitement in your journey as each one of them is unique and special. Make sure you experience such a journey once at least.
Image Source- Featured Image, Image1, Image2, Image3, Image4, Image5, Image6, Image7, Image8, Image9, Image10