Recent remarks tweeted by a British Historian describing the South Indians or for that matter, the majority Indians' famous food Idli – the steamed rice cake – as the most boring food in the world has succeeded in creating a storm in the Kaapi Cup literally. Innocuous sounding remark not only ensured in inviting a backlash from the millions of patrons grown up on savouring the delicacy with relish but also had no less than celebrities/popular personalities volubly declaring their biased liking for the humble dish going to the extent of terming such name-calling as blasphemous.
Pc: Picuki
Ironically, the gentleman is married to a Keralite, and after bombarded with trolls and humorous reactions, has gone on record to reiterate his earlier claim that Idli indeed is the most boring food for him. He has expressed admiration though for other culinary delights emanating from the Indian kitchen in no uncertain terms. The British Historian's dislike for the ubiquitous dish, unthinkable to not have the same in much of the South Indian households/hotels/restaurants/any form of eateries, has set the stage for the strong debate inviting barrage of likes and dislikes.
Trust me, as a quintessential South Indian, yours truly will emphatically swear that there is no better enriching and fulfilling experience than devouring a platter full of steaming Idlis with accompaniments ranging from a variety of Chutneys – preferably groundnut and coconut – and the exquisite potato/onion/tomato thickly stewed Sambhar.  Add to that a dollop of creamy butter, you are bound to relish the partaking as if there is no tomorrow or more specifically, no superior fulfilling feeling downing the heavenly blend, bite by bite.  Mouthwatering stuff, indeed.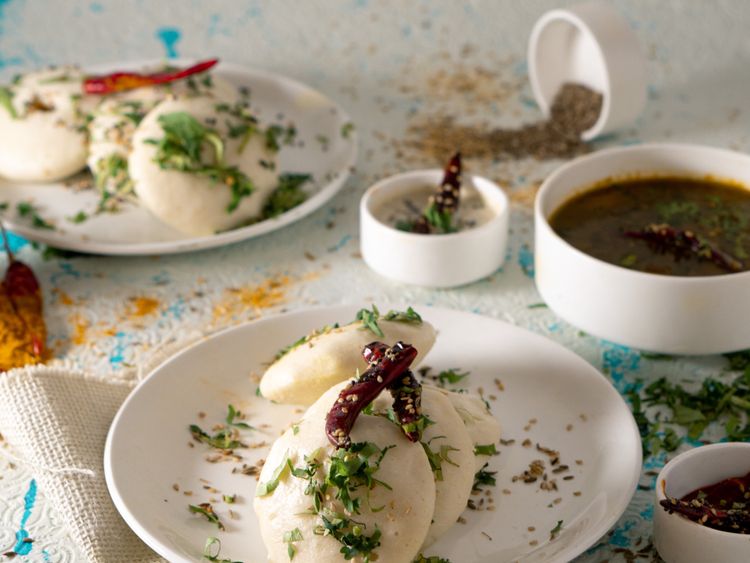 Pc: Gulf news
People in the know should not be surprised as Idli is considered one of the healthiest foods found fit to be consumed by someone who is running a temperature or down with an illness. Many of us would fondly recollect rejigging our childhood memories when the Doctors used to prescribe unassuming Idlis as suitable nourishment whilst disallowing everything else.  Easy on the tummy for its quick digestible traits probably encouraged the medical experts to recommend the same.  Not that we would have complained when the taste buds were literally on strike owing to illness.
Pc: BBC
Am sure many would know the fact that Idli originated in Karnataka gradually spreading its popularity across the southern states undergoing metamorphosis leading to welcome experimentations from the culinary experts, mostly unheralded womenfolk, firmly positioning the dish as it stands today. Of course, as with any other form of opposition, vehemently conflicting lot are deriding the dish as bland, unappetizing, and not worthy of conferring a higher position on the pedestal that it enjoys right now.  To all such differing voices, you may lack a true taste of appreciation and humbly suggest reworking in acquiring one.  What say Idli warriors!