It's shocking as much as its saddening news. The legendry singer of yesteryears, Asha Bhosale, who voiced many actresses till today is now retiring from her singing career. She recently performed at the Filene Centre at the Wolf Trap Foundation for the Performing Arts, Washington, DC. This seems to be the last performance from the queen of voice, Asha Bhosale. In a recent interview, this living legend revealed lot about her life, career and her love for singing. Here is small glimpse of the interview with Asha Bhosale.
Q: Your performance at the Wolf Trap has been billed The Farewell Tour. What happens after this tour? Does it mean that besides giving up touring overseas completely, you will also stop performing within India?
For the last 10 years, I haven't come to DC, since I performed at The Kennedy Center. But, yes, this is definitely my farewell tour and not only overseas — it's going to be everywhere. I can't come here again because now I am 83. So, yes, it is my last tour here and everywhere.
You have toured the US several times before, performed at some of the major centers in this country, including the Kennedy Centre. What made you keep coming to the US?
Q: How would you describe the Indian Diaspora's continuing enthusiastic response to your performances over past decades?
I have been singing for the last 72 years, so Indian people all over the world know me from their childhood. Even though they are here, they don't forget Indian music and my songs. I am with them always because in some ways, we grew up together.
When I come here, they want to see me, I want to see them because they have been here for so many years, and for them, it brings back a lot of memories.
It is nostalgia for them, about when they were young, when they fell in love and then for some, love and lost (chuckling).
So they can remember all those things in their life. They can also remember India and they feel like they have been transported back to India.
Q: You are 82 years old. How do you keep fit and find the energy to perform at this age, doing all this touring and stage shows? For this performance, you've just arrived from Dubai after touring in Australia and New Zealand, then you go to London and Durban and then back again to Dubai. What do you do to keep your vocal cords in such great shape?
I love to travel. I like to meet new people and learn about their cultures — new cultures. When I am singing, we are communicating through my singing and our common love for music.
My voice, I am keeping well because every morning, I do classical music rehearsals, always training my voice. That's how I have maintained my voice because if you are not doing practice always, then your voice will go.
Q: Lata Mangeshkar sang Bollywood songs. Some were based on classical ragas, some were semi-classical, others were light classical, following her training from your father. You started off sort of the same way, but quickly made your mark by fusion songs, and then songs with a Western touch, a mix of light classical, which your sister would never do. Some people strongly criticized this as impure, contaminating Indian classical music and crass commercialization. What made you do that and continue doing that? How would you counter such criticism?
First, my base is classical — Indian classical music, which my father taught us.
After that, I was in the film industry and in films, I am singing so many styles of songs — sometimes qawwali, sometimes cabaret, sometimes sad songs, a brother's song, a mother's song, a mother signing for her children or children and so on.
I am singing all those kinds of songs. But classical is my heart. I like also so much Western and so I took on that Western style. I love Elvis Presley, Bill Haley… you know Bill Haley…?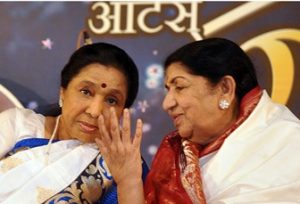 Q: For many decades, Lata Mangeshkar, you, Mohammed Rafi, Kishore Kumar, and Manna De virtually monopolized the Bollywood playback singing industry. True, you were all very talented and at the top of your game, but do you regret having such a monopoly where just a few artistes like you controlled the industry, a sort of exclusive club?
No, we did not control… There was no singer like Lata, no singer like Kishore, Rafi, or Mukesh. And until now, there is nobody. Nobody with that kind of voice, nobody with that kind of brain to learn. Not only to learn, but to improvise.
We improvised music, we improvised the songs. Nowadays, they just listen and copy. We would listen, and then we would be thinking what do we do with this song, how to innovate, how to improvise.
Nowadays, people don't want to learn the correct pronunciation, all those things. We know that, but not the people now. We would improvise on the spot while singing and that's what made our songs so popular.
Q: For many years Lata Mangeshkar and you were said to be estranged and had a strained relationship. I believe you are very close now, live together in Mumbai and have a loving sisterly relationship.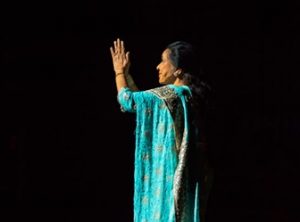 Yes, we are very close now. We are sisters and you know, blood is thicker than water. Our bonds are very strong now. I am going to her place all the time and we are talking all the time and meet all the time, because we are living close to one another in Mumbai.
Q: Now that you are close to winding down your singing career and ending your touring, will you mentor young singers? Will you train them, help them come up with original songs or with improvisations as you did?
I want to do that, but the new generation… they are very stubborn… they don't care if you tell them something. They will say, 'Okay, Okay, I know that' if I say don't eat curd, that it is bad for your voice. Or don't eat acidic stuff, it's bad for you, they will say, 'We will eat what we like.' So, they are like that.
They don't want to spend time. They don't have patience. It is all about commercial for them.
Its quite clear that Asha Bhosale has no plans to start a trainign school for the fresh and young singers. However, she would love to help them if they show little more patience and devotion towards singing.
Source: Rediff