When we talk about protest, we link it off directly to angry crowd and violence. But trust me that is not the case always. These days' people are coming up with really quirky ideas of putting their point forward. While some failed in their motives, but some even succeeded in bringing about the desired change.
Check out below 8 of world's most shocking protest made around the world.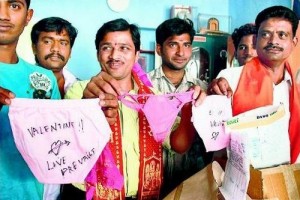 1. The Pink Chaddi Campaign – India
This campaign was a nonviolent protest movement launched by the consortium of pub-going, loose and forward Women in the year 2009. This protest was made in response to notable incidences of violent conservative and right-wing activism against apparent violations of Indian culture, after a group of women were attacked in a pub of Mangalore. Nisha Susan was the women behind the idea if this campaign. This campaign was done mainly to protest against a threat by Pramod Muthalik of the Sri Ram Sena. He threatened couples who were found together on Valentine's Day, to marry off and take other action.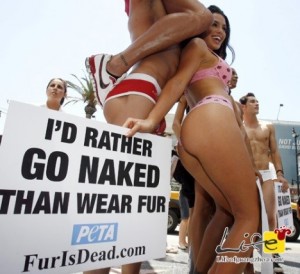 2. Going Naked Is Better Than Wearing Fur – PETA
PETA (People for the Ethical Treatment of Animals) is very popular and respected worldwide for its tough work on behalf of the animals. They keep on putting up messages in the most unusual manner. One of them was quite head-turning all around the world, a campaign in which the protestors paraded around carrying simulated skinned animals who were covered in blood. The protesters screamed out loud slogans, like 'I'd rather go naked than wear fur'. This was done to put-off people from using the animal fur for fashion. They wanted to say Luxury is not often as pretty as we think.
3. Slutwalk – Canada
This was a global movement, people marched to protest for an end to the rape culture. This protest was made specifically, by participants to protest against any explanation or excuse of rape by referring to any aspect of the woman's appearance. In April 3,2011, the rallies began in Toronto, Ontario, Canada, post a Toronto Police officer said that women should avoid dressing like sluts and this will be a precaution against the sexual assault. Many subsequent rallies took place globally to support this campaign.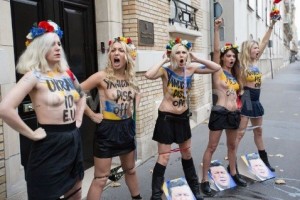 4. Pissing On President – Paris
FEMEN is a self-proclaimed "sextremist" women group in Paris. They became internationally renowned in December 2013, they gathered together in front of the Ukrainian embassy to protest against restraints on human rights and liberties. The protestors bared their breast and placed the photographs of Ukrainian President Victor Yanukovych on the pavement, and urinated on it. These five topless protestors attempted to clean up Ukraine in a very natural way.

5. Chopping Off My Penis – Egypt
This protest was made by a 25-year-old young man, Sheikh Eissa who chopped off his penis in protest against his parents. His parents wanted him to marry their choice of bride. His parents forced him to marry a woman of their choice, while he loved someone else. As he failed to convince his parents he decided to take this drastic step. He could have lost his life, but he was saved by the doctors. However, his testicles could not be reattached.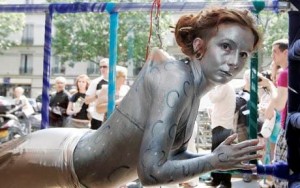 6. Dangling From A Hook – Paris
Some 100 million sharks are caught up in commercial and sports fishing each year. In the past decade many species of sharks have decline by more than 80 percent. Alice Newstead who is an artist & activist, wanted to put a message to people of how the sharks are slowly becoming extinct. She protested by painting her body silver like a shark and then pierced her back with big fish hooks. Then she hoisted herself into the air with the help of on those hooks. She protested for 15 minutes hanging from the ceiling of a Paris boutique.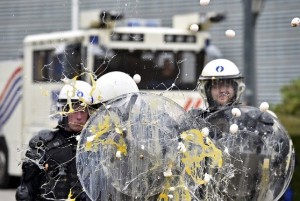 7. Spraying Milk Protest – Belgium
The European dairy farmers had been suffering the crunch of drop in the prices of milk for too long. In 2009, around 2,500 European farmers came forward to protest against the constant collapse in price rises. Before this protest they created a "milk lake," by pouring thousands of litres of white stuff onto the street. And in this protest they squirted milk straight from the cow's udder on the police. They also burned hay and tires and threw bottles at the police.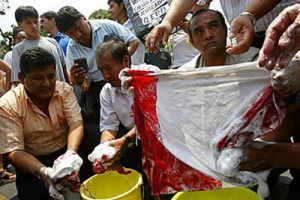 8. Scrub The Country's Flag Clean – Peru
This protest was made in 2000, after Alberto Fujimori was re-elected as the president of Peru. As Fujimori was very unpopular due to his profligate abuse of power and his use of violence to crush his opponents, this bought a lot of criticism from all over the country. Some Peruvian women protest against this by gathering in Lima's main plaza every day to wash the country's flag, as they believed that the country's flag was soiled by dirty politics. This went on for months, until a video emerged showing Fujimori's ally bribing a legislature. After which Fujimori went to Japan and resigned from the presidency and later he was imprisoned.
Image Source: Image1, Image 2, Image 3, Image 4, Image 5, Image 6, Image 7, Image 8, Featured Image.