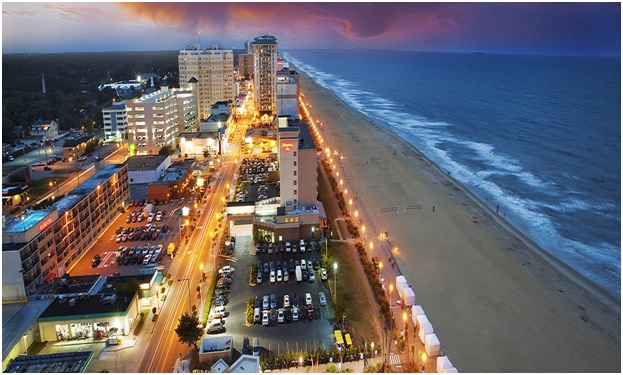 Renowned for its outstanding and magnificent beaches, Virginia Beach in United States is one of the most beautiful places and proves to be a haven for summer sun seekers! Whether it be pure water of the Back Bay or the displays of the aquarium; Virginia Beach has plenty to show off in the winters as well. Even there are many water-based activities out here in order to lure families from all around the world. So, here is a list of 7 amazingly beautiful natural tourist destinations in Virginia Beach:
Tourist attractions in Virginia Beach!
1. Cape Henry Lighthouse!
The very first United States government funded lighthouse; Cape Henry Lighthouse was built in 1792. Located on Chesapeake Bay, it is a long standing landmark. It provides some of the magnificent views of the coast out there.
2. The Adventure Park!
The Adventure Park in Virginia is well set adventure platform with ropes and platforms dangling out from the large trees. It is a great place for all the adventure freaks. It lies inside the Virginia Aquarium and Marine Science Center.
3. Virginia Aquarium and Marine Science Center!
Located along the shores of Owls Creek, Virginia Aquarium is one of the best places to hang around. There are plenty of aqua-animals out here including sharks, seals, rays, sea turtles, otters and a whole host of other sea life.
4. Boat Tours and Water Adventures!
From whale watching tours to charter fishing trips to kayaking to paddleboarding; Virginia Beach has got all type of boat tours and water adventures. Jet Skis and also non-motorized water crafts are available out here so as to witness the thrill of this place.
5. Back Bay Wildlife Refuge!
Comprising of more than 9,000 acres of beach, Back Bay Wildlife Refuge has some of the magnificent freshwater marshes, forested areas and dunes. All kinds of migratory birds, along with deer, bobcats, otters, muskrats, and other critters make this place more beautiful.
6. Boardwalk and Resort Beach!
Renowned all around as the Resort Beach, Virginia Beach Boardwalk is the city's most renowned and magnificent stretch of beach. The 3-miles long boardwalk is a perfect place for walking, hanging out with friends, running, biking and skateboarding.
7. Chesapeake Bay Beach!
Located on the North of the Resort Beach, Chesapeake Bay Beach is another jewel and popular stretch of sand. Its pretty decent and pleasant area for the families and children because of its shallow and calm water.
Even the Sandbridge Beach, located on the South of the Resort Beach is another popular destination among the peace lovers. It provides a peaceful and calm yet energetic atmosphere.
Image Source: Image1, Image2, Image3, Image4, Image5, Image6, Image7, Featured