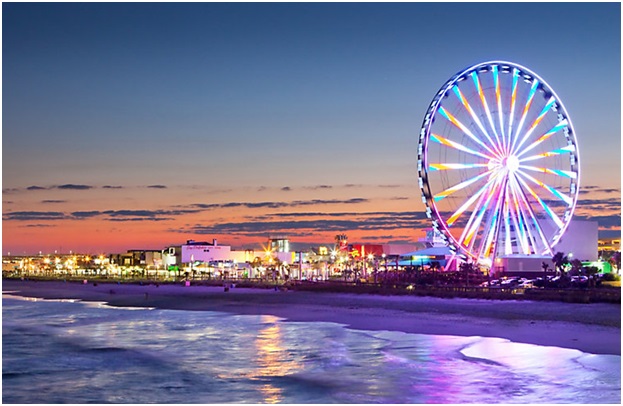 Myrtle Beach is that renowned place where tourists from all around the world visit for the astonishing and endless broad sandy beaches. It is equally renowned for its incredible and endless lines of hotels. The place is also known as the Grand Strand, and provides leisure to all kind of people with some incredible and irresistible attractions, which include a great dining scene, the beach, live award-winning entertainment and excellent local shopping. Here is a list of 5 astonishing tourist attractions in the Grand Strand aka Myrtle Beach:
Major tourist attractions in Myrtle Beach!
1. Myrtle Beach!
Of course, the first major tourist attraction that comes in our list is the Myrtle Beach itself! The beautiful and magnificent stretch of white sand beach here lures each and everyone. Further, this stretch is along the city's oceanfront, thereby further increasing its beauty. Even, adventure sports like boating, fishing, windsurfing, surfing, para-sailing and scuba diving is available here.
2. Mini golf courses!
The Grand Strand is blessed with dozens of mini golf courses. Some of these biggies are Jungle Lagoon, Treasure Island, Mt Atlanticus and Captain Hook's Adventure Golf. The Dragon's Lair Miniature Golf is the most attractive course here because of the large fire-breathing dragon that emerges out of its cave throughout the day.
3. Barefoot Landing!
Located in North Myrtle Beach, Barefoot Landing is renowned for its food, shopping, and quality entertainment. During the day, tourists can shop from wide varieties of apparel, jewelry, and gifts. The other major attractions out here are the Alligator Adventure, the T.I.G.E.R.S/Preservation Station and the MirrorMaze.
4. The Carolina Opry!
The Carolina Opry is home to some of the amazing and biggest shows on the Myrtle Beach. It features 4 productions with catchy and classic tunes. There are acts of many talented singers, comedians, musicians and dancers. Further, a series of laser light shows makes this place more amazing and beautiful.
5. SkyWheel!
With 42, six-person gondolas, the SkyWheel in the Grand Strand takes the tourists to a great height. The 10-minute ride here provides some of the magnificent and expansive view. And, if you want to take it one step further, then book a slot for a 20-minute ride, where you will be seated in a gondola of glass floor, providing some of the amazing views!
Also, the Pirates Voyage, a dinner show for landlubbers; helicopter adventures and Myrtle Waves Water Park are some of the other amazing and beautiful tourist attractions in Myrtle Beach.
Image Source: Image1, Image2, Image3, Image4, Image5, Featured