Clash of Champions is going to take place today. It is going to be Raw's first exclusive pay-per-view after the brand split took place. It is a very important PPV for RAW since Smackdown has beating RAW in terms of TRP since the past few weeks. They need to plan and do something big so that they could score big points over Smackdown. They have got a good match card, now with a few surprises at the PPV; Clash of Champions could seriously prove to be a big success. In this article I will tell you about the major highlights of Clash of Champions.
WWE Clash Of Champions This Sunday! Major Highlights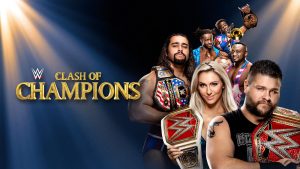 1.Let's first talk about the Cruiserweights who arrived this Monday night on RAW. We are going to see T.J Perkins VS Brain Kendricks for the WWE Cruiserweight Championship. If everything goes well then this match might steal the show. This match has to deliver because currently Cruiserweights are exclusive to RAW giving them a bonus point against Smackdown.
2.Talking about the divas revolution. We are going to witness a classic between Sasha Banks, Charlotte and Bayley for the RAW Women's Championship. These three and Becky Lynch are called the four horsewoman. And rightfully so, the talent they possess and the passion that they show in the ring is extremely amazing. Every time they enter the ring they give everything that they have, which is the reason they are no longer called "Divas" they are called "Superstars" just like the male wrestlers.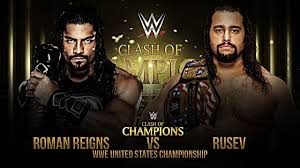 3.Two single non tittle matches are on the card. Sami Zayn VS Chris Jericho and Cesaro VS Sheamus. We all know very well that these 4 are one of the most talented wrestlers on the current roster. We will finally see Cesaro VS Sheamus rivalry's final match. And Zayn VS Jericho would be a blockbuster, I am sure of that.
4.Roman Reigns has finally been put on the upper mid card and would be feuding for the WWE United States Championship against Rusev. The "Guy" has delivered some power packed performances in the past few weeks. He has been in the main event of RAW from the past 4 weeks. And no matter what the response he got, the crowd ended up chanting "This is Awesome". This is a big addition to Clash of Champions.
5.Now let's talk about the main event of Clash of Champions. Seth Rollins VS Kevin Owens for the WWE Universal Championship would be a big match on any day. What is more interesting in this match is whether Triple H or Stephanie McMahon would be interfering in the match or not. It seems like WWE is planning to do a Triple H VS Seth Rollins at WrestleMania or may be Survivor Series. Well, we are waiting for that to happen because we know that The Game VS The Man would be a blockbuster!
Image Sources: Image 1 & Featured Image, Image 2, Image 3.