Humans communicate with each other and develop a relationship between them with the help of language. And therefore, language is considered to be the most pivotal feature of human existence. Languages evolve and diversify over time. India is a home to several hundred diverse languages and cultures and people speaking different languages are scattered across the country. Here is the list of the top 10 spoken languages of India:
Top Indian languages
10. Odia
An Indo-Aryan Eastern language, Odia holds the tenth position with over 33 million speakers. It is mostly spoken in Odisha.
9. Malayalam
Malayalam belongs to the Dravidian family of language. With over 33 million speakers; the language is spoken majorly in Kerala, Puducherry and Lakshadweep.
8. Kannada
With around 38 million speakers; Kannada is at the eighth position. Kannada is spoken majorly in the states of Andhra Pradesh, Kerala, Tamil Nadu, Maharashtra and Karnataka.
7. Gujarati
The language of Gujarat, Daman and Diu and Dadar and Nagar Haveli; Gujarati has 46 million speakers all over India.
6. Urdu
The Indo-Aryan Central civilization language, Urdu has around 52 million speakers scattered over different parts of the country. Jammu and Kashmir, Bihar, Telangana, Delhi and Uttar Pradesh are the some of the states where this language is majorly spoken.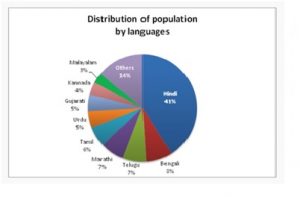 5. Tamil
With estimated speakers of around 61 millions; Tamil is the fifth most spoken language of India. Kerala, Puducherry, Tamil Nadu and Andaman and Nicobar Islands are the major areas of this language.
4. Marathi
The Indo-Aryan Southern language, Marathi has nearly 72 million speakers. It is a principle language of Goa, Maharashtra, Dadar and Nagar Haveli and Daman and Diu.
3. Telugu
Originating from Dravidian civilization; Telugu has 74 million speakers. It is majorly spoken in the Southern Indian states of Puducherry, Telangana, Andhra Pradesh and Andaman and Nicobar Islands.
2. Bengali
With its roots from Indo-Aryan Eastern language; Bengali is spoken in Assam, West Bengal, Jharkhand and Tripura. It has an estimated 83 million speakers in the country.
1. Hindi
Originating from Indo-Aryan Central language; Hindi secures the first place in the most widely spoken languages of India. Being the national language of India; Hindi is spoken in Madhya Pradesh, Bihar, Uttar Pradesh, Rajasthan, Uttrakhand, Chhattisgarh, Delhi and Himachal Pradesh. It has 422 million speakers all over the country.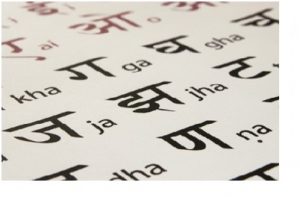 Apart from all these languages; Punjabi, Assamese, Maithili and Bhilodi are some of the other extensively spoken languages of India.