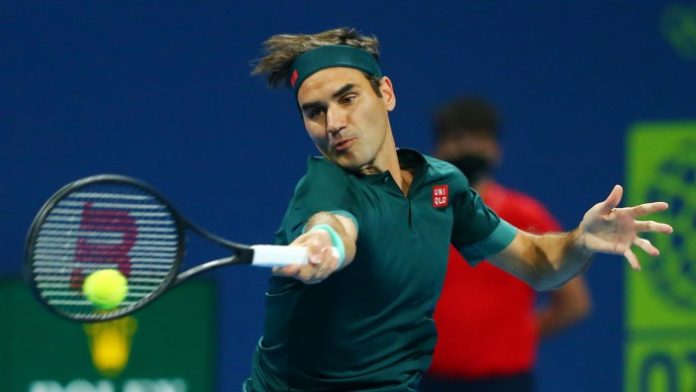 Trust me, there are hardly a few towering sporting personalities who commanded such immense love, affection, admiration, respect, and awe as Roger Federer did from tennis enthusiasts around the world. Irrespective of the country one represented, tennis fans were inclined to extend vociferous and passionate support to Roger rooting for the champion to cross the winning line.  Always a crowd favorite, the grace with which FedEx conducted himself all these years is a lesson in itself.  Make no mistake, people who lacked understanding of the tennis nuances too were left mesmerized by the way Roger moved around so gracefully with such nimble footwork to boot.  Very easy and languidly soothing on the eyes are the visuals of Roger in action on the court.
PC: Aayush Majumdar
We, the tennis aficionados, knew the decision to retire from tennis was round the corner. Indeed, it came true when the greatest of them all announced his retirement from the sport recently.  A sense of déjà vu would have prevailed upon the millions of his fans who wanted the gentle giant to continue for some more time.  Alas, it was not to be.  Roger Federer will be missed not just for his tennis.  Undoubtedly, the FedEx age saw the rise of a sporting genius who not only brought back beauty and artistry to the game but did so, despite the flood of encomia, with rare humility and gentility.  Recall how at his peak in the 2000s when Federer's game had reached a Zen-like quality, the Swiss maestro wore his crown lightly.  A sight to behold and admire.
Needless to mention, his on-court behavior has always been near impeccable and off-court he remained affable, jovial, courteous, and humble despite his belief-defying achievements. The Indian sporting enthusiasts could relate those admirable qualities with none other than our own cricketing genius, Sachin Tendulkar.  We all know how the darling of the nation Sachin conducted himself all through his playing years. A superb role model on and off the field and worthy of emulation.  Even more instructive for successful people, Federer changed from being a cantankerous, racquet-smashing player to a junior talent.  Mind you, the unconquerable game of his acme years could have turned him into a prima donna.  Thankfully, neither happened.
PC: Karina Micheal
This is all the more remarkable because, especially in recent media-driven decades, too many sporting superstars across disciplines have made in-your-face personalities their calling cards. It was a measure of Federer's genius that greats like Sachin Tendulkar to Tiger Woods gravitated to his matches, recognizing him as a true legend.  By describing Rafael Nadal as his greatest rival and friend, the Swiss legend represented ideals that went beyond tennis – equanimity, humility in success and never taking oneself too seriously.  Wish all super-successful people were like Federer.  An end of an era will not sound cliched whilst describing Roger Federer one bit.  Truly miss your amiable and towering presence on the tennis field champion.  All the best for the future!