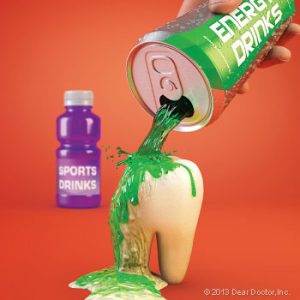 We all have a conception on our minds that sweetened drinks can damage our teeth. But can the sugar-free drinks do any good? The answer is NO, as there is simply no point if you stopped drinking sweetened drinks just for the sake for the wellbeing of your teeth.
Rethink as it's time, as per a new study; not only sweetened drinks but even sugar-free drinks equally cause damage to the tooth enamel. And the damage is accountable and measurable so take this as a Warning.
Details of the Melbourne's Oral Heath Cooperative Research Centre Study
1. 23 different types of soft drinks and sports drinks examined by researchers from the Melbourne's Oral Heath Cooperative Research Centre.
2. Drinks that contain acidic additives and having low pH levels affects the health of the teeth's by a noteworthy amount and causes a lot of damage.
3. Acidic additives have adverse effects to the tooth enamel. Regardless of the drinks being sugar-free.
4. Post exposure to various kinds of drinks the dental enamel softening and tooth surface loss was measured in the study.
5. 30-50 percent of dental enamel softening was caused by both sugar and sugar-free drinks. No difference was seen between effect of sugar-containing and sugar-free drinks.
CEO of the Oral Health CRC,Eric Reynolds said that many people have a perception that only sugar intake can cause damage to the teeth and sugar-free drinks are absolutely safe to drink. But on the other hand, people are not aware of the other fact that while we try reducing sugar intake, it doesn't reduce the risk of dental decay. We still face many chemical mixes of acids in some foods and drinks which can cause a similar damaging condition of dental erosion.
Moreover, Eric Reynolds warned people about the sugar-free drinks which are considered to be 'tooth friendly' automatically. But, they can be actually erosive and cause hell lot of damage to your tooth enamel. So think twice, before you choose the perfect drink for yourself.
Remember, your smile is precious and without perfectly healthy teeth that smile will be incomplete.
Source: Tecake
Image Source: Image 1, Image 2, Featured Image