On Saturday, the anti-national slogan was made by the Art of Living founder Sri Sri Ravi Shankar at Jawaharlal Nehru University (JNU). He stated Jai Hind and Pakistan "Zindabad" should go together for peace and development in the region.
Sri Sri Ravi Shankar also said that Pakistan is facing terror attacks within their country. Thus, it should be a win situation for both the countries. We being an Indian should step forward. Mr Shankar was spreading the message of peace on the three day event which was held  in Delhi.
Sri Sri raised the slogan in presence of many leaders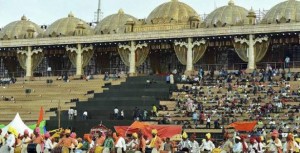 When the Slogan was raised by Sri Sri Ravi Shankar at the podium there were well known eye witnesses. The faces included Union Home Minister Rajnath Singh and external Minister Sushma Swaraj. The shocking presence was of Pakistan's Mufti Muhammad Saeed Khan.
There was also a speech by Delhi's Deputy Chief Minister Manish Sisodia who is an MLA. He said we should thank our agriculture land and more of our farmers. They are the one protecting our seeds which reaches to the city and the house of every individual. Mr. Sisodia is mainly referring to the floods that occurs every year during the monsoon time.
Few of the cultural highlights
The event not only included speeches by religious and political leaders; but there were cultural highlights as well. It included 350 dancers from Sikkim, around 150 singers from the middle east, and some few artists from Switzerland. There was also a part of the Bhangra dance routine by Jasveer Singh from Bathinda, Punjab. He said: "We are artists and we love our art. We aren't bothered by the rain. This is the biggest stage we have ever seen.
Many religious leaders from India and Pakistan have come to attend this event/festival. However, this event was more likely to be on religious side. The presence was from all community leaders of Christian, Muslim, Buddhist, Jain, Jewish and Hindu.
Image Source: Featured Image, Image1, Image2