Oman – First T20 World Cup appearance, first T20 international encounter against Ireland, and what more fascinating is the fact that they have defeated the Ireland team, which on paper looked pretty stronger than Oman! It was a major setback for Ireland yesterday, and Oman, no doubt has stunned the world!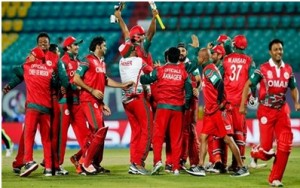 But, who's behind Oman's success story? A guy from Sehore, Madhya Pradesh! Yes, Munish Ansari, a local boy of Sehore, near Bhopal has shown some incredible performances, thereby helping the Oman team to qualify for the World Twenty20, and even contributed in their first win against the Ireland yesterday. But, why doesn't he play for the Indian cricket team? Here is a look at his career journey and the reasons thereof, for not getting a place in the Indian squad:
Munish Ansari – Madhya Pradesh's fast bowler playing for Oman!
In July, 2015, the Indian born Munish Ansari had become an overnight hero for the Oman cricket team. It's because the speedster helped the team to create history by qualifying for the World Twenty20 in India. He showed a road to success to the Oman team after being ignored by the Madhya Pradesh Cricket Association (MPCA).
Who is Munish Ansari?
Munish Ansari was born in Sehore, Madhya Pradesh and is an international cricketer. He debuted for the Omani national side at the 2013 World Cricket League Division Three tournament. He is a right-arm pace bowler, and his slinging bowling action has even been associated to that of Sri Lanka's Lasith Malinga. But, he does not generate the same pace!
Why not playing in the Indian squad?
You will be shocked to know that Munish Ansari was forced to play for Oman in order to pursue his big dream of playing professional cricket. He chooses to play for the Oman team, after being ignored by Madhya Pradesh team. The team even didn't select him, and that's when he left the country, almost six years ago!
Even, while asking questions about this talented bowler in July 2015; MPCA's secretary, Milind Kanmadikar had no clue that there even exists a cricketer with the name of Munish Ansari in Madhya Pradesh! He told to the media reporters that he needs time so as to have more information before giving any statement.
What Munish Ansari said about the whole scenario?
Ansari had begun his cricket career in his native country of India only. But, after failing to gain selection for the Madhya Pradesh team; he then began to play in corporate tournaments in the Middle East, and eventually relocated to Oman permanently.
He has alleged that a 'Godfather' is certainly needed in India for getting a berth in the Indian team. He said, 'Not only me, there were others as well who did not get the chance on the correct time as they had no one to back them up for selections!'
Dismissed 'The God of Cricket' once!
There are some tales, which tells that he has impressed many veteran cricketers by his pace in the nets. And, once he even got the better of Sachin Tendulkar and also dismissed him, along with Andrew Flintoff, former English all-rounder.
Munish is capable of hitting 145 kmph mark consistently, and he even broked Bhajji's bat into two with his sheer pace once! That was the time when he got the title of 'Sehore Express!'