Pandemic or no pandemic, world's terrorist factory firmly established in our neighborhood continues to operate without any inhibitions or restrictions inflicting wounds on our security apparatus. In the last two days, the country's awesome brave hearts have succumbed to the malicious machinations of our neighbor. First it was an Army Colonel, a Major, two soldiers and a Police Sub-Inspector who were martyred.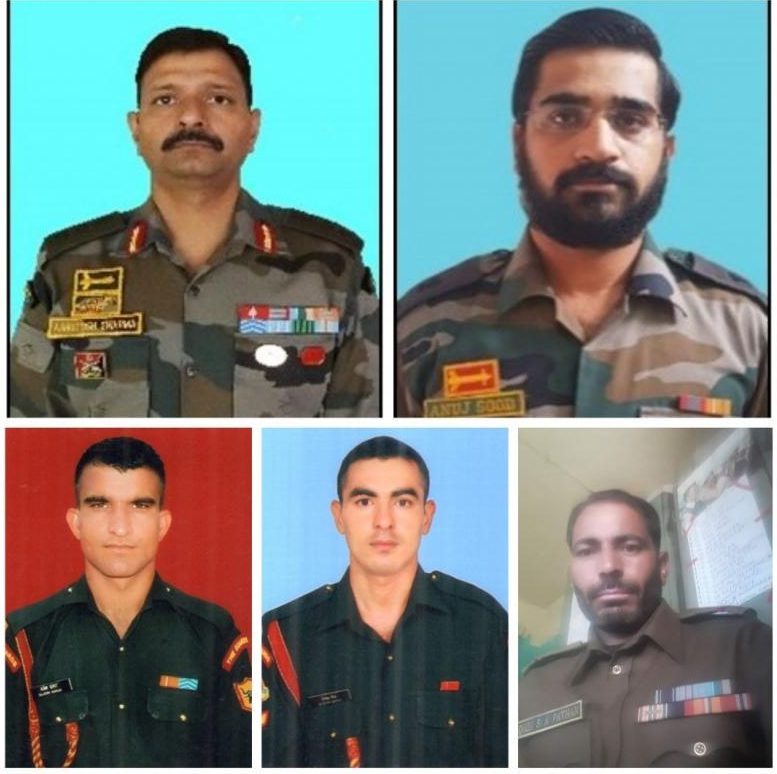 PC: Trendy News
Close on the heels, comes news that three more 3 CRPF Jawans were martyred too. Both of the heinous killings occurred in an encounter in a terrorist hotbed of Handwara Tehsil, Kashmir's Kupwara District. The Indian Army Chief has indeed affirmed categorically that Pakistan's terrorist operators are relentless in pushing terrorists across the border unabatedly. While the entire country's resources are concentrating on fighting the virus menace, spurt in terrorist infiltrations and encounters are a certain distractions.
PC: live mint
Though the security personnel have given a befitting reply by eliminating terrorists, losing our brave soldiers amidst the ongoing combat against the virus mirrors undiluted resolve and commitment of our Armed Forces in securing the nation's borders. In such a scenario, there cannot be any deviation from the stated objective or letting down the intensity in undertaking the strictest vigil to strike back against such terror designs.
In spite of several overtures and inclinations to guide/nudge Pakistan to shed the path chosen by it to unleash disturbances here, India as a bigger nation will have no option but to keep undertaking efforts to extend outreach in the hope that the misadventures of our neighbor will be seen as futile as well as pointless. Howsoever thin might be our patience and resolve in continuing to exercise restraint, the world community expects us to show tolerance.
PC: Dainik Bhaskar
In the meanwhile, personal irreparable losses experienced by the families of the martyred will be rightfully baying for the blood and revenge on the perpetrators. No matter whatever talks of bravery and martyrdom for the noblest cause of securing the motherland, the day-to-day lives of families of the martyred will never be the same again. The overall mood of the nation may be one that of mixed emotions like desolate, passionate, confrontational as well as swelling with pride for our heroes.
The fact of the matter is brave soldiers continue to perish. A lost son, husband, brother, fiancé or a friend can never ever be remade or reproduced or for that matter substituted and as such, the agony shall remain indelible for all near and dear ones. We, the ordinary citizenry shall not fail to recognize immense sacrifices in the face of adversity and salute the departed bravest with absolute indebtedness. Jai Hind!