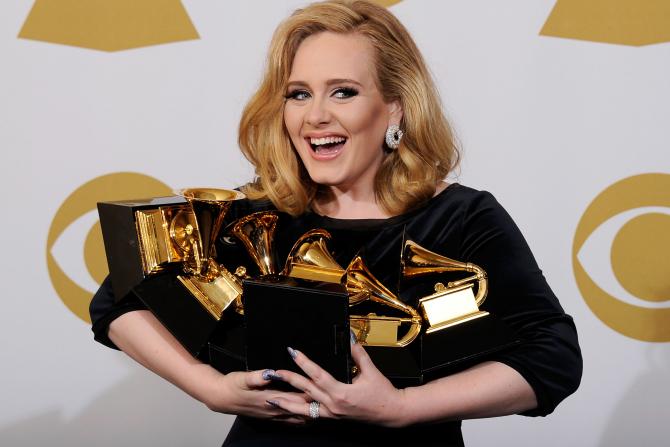 The biggest music night is going to be held on February 15, 2016. The 58th Grammy Awards will be aired on Monday, February 15, 2016 at 8 p.m. ET on CBS and there many things that are new in this year's prestigious event. This award is of much significance to all music artists as it's the biggest music award event in the World.
Here are 9 things that to know about this year's Grammy Awards:
Live Event Streaming All Around The Country
For the very first time, this event will be streaming live all around the country with no tape delay. The event will air live in the Pacific and Mountain time-zones for the first time ever.
Adele Leads A Stacked Lineup of Performances
Adele, whose album 25 took 2015 by storm, just missed the deadline for this year's nominations. Justin Beiber, Kendrick Lemar, The Weekend, Pitbull, Little Big Town, Alabama Shakes, Joey, Alexander and Miguel are the nominees for this year's event. On this event, Rihanna, Grammy Winner, will also be performing on Grammy Awards 2016.
Simulcast
The smash-hit musical, The Hamilton Cast, will be performing the opening show number via satellite which will be live from the Richard Rodgers Theater in New York.  This is the first of Hamilton that they will perform on the Grammy Awards via simulcast.
Tribute to Lionel Riche
There is a special performance to give tribute to Lionel Riche, four-time Grammy Winning Singer, on the Grammy Awards 2016. MusiCares and the Grammy's Charity Organization had also honored Richie, as the Foundation's 2016 Person of The Year.
A Tribute By Lady Gaga To David Bowie
Lady Gaga will remember the Late Legend with a performance with the Legendary Nike Rodgers, himself a Bowie collaborator, singing on as musical director, to honor David Bowie
Eagles Members Tribute To Glenn Frey
All the Eagles members will pay their tribute to Glenn Frey, late bandmate. Don Henley, Bernie Leadon, Tmothy B. Schmit and Joe Walsh will give a performance  on a classic Eagles' song along with the Take it Easy co-writer, Jackson Browne.
Lifetime Achievement Awards
Run-D.M.C. and Earth Wind and Fire will receive the lifetime achievement awards on Grammy Awards 2016.
Taylor Swift Performance
Taylor Swift will perform a song from the album of the year nominee 1989, on the opening ceremony. She has never performed this song live before on TV and this is the first time that she will be doing so in Grammy Awards.
Host For The Event
The Grammy Awards 2016 will be hosted by LL Cool J, who has hosted previous year's Grammy Awards as well. LL Cool J will be hosting the vent for the fifth time in a row.
This year's Grammy Awards is also packed with some mind blowing events and performances by popular artists. Hope you enjoy the event!
Image Source: Featured Image