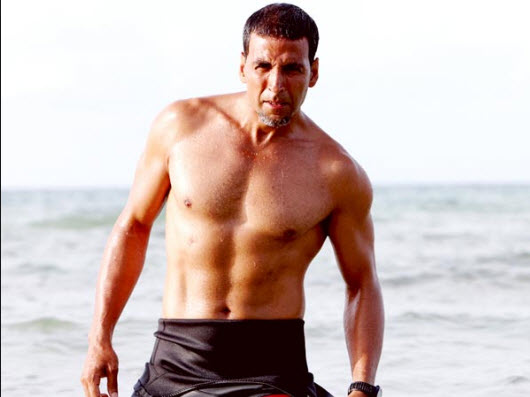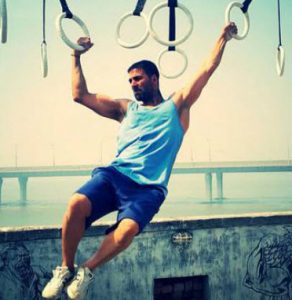 One of the few actors in Bollywood who are looking smarter and hotter with age is Akshay Kumar. Akshay Kumar has always been the fittest actors of Indian cinema. However, you will be surprised to know the fitness mantra of 'Khiladi' Kumar to stay fit even at this age. Many people think that he must be working out at the gym, lifting weights to keep his body in shape ad must have hired an expensive fitness trainer. But actually, Akshay Kumar doesn't do any of these things. Read on to know more about his fitness regime, that too without going to the gym.
Early in bed and early to rise
Many people will be surprised to know that Akshay Kumar hates to stay awake at night and hence late night parties as well. He loves his good night's rest and start early. A typical day of Akshay Kumar starts as early as 5.30 in the morning. He also ends his day early. After an early dinner at around 7.30 pm, he's in bed by 9 pm.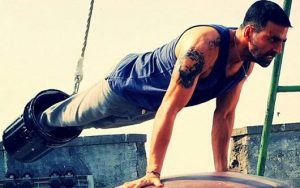 No trainer, no weights, no gym
Most of today's actors (and even actresses) rely majorly on the trainers for their fitness. Just like any other layman, actors too think that gym is the only way to keep their bodies in shape and fit. However, Akshay doesn't think so. His fitness rules are simple. Fitness comes from keeping your body active and there are different ways to do so without hitting the gym. He loves kick-boxing and shadow-boxing. He also practices Parkour, yoga for a strong mind and other sports like basketball and enjoys trekking.
He advises people that everyone should take out at least one hour every day to exercise, in any form. If you can't exercise, just go for a walk for an hour.
He finishes his workout with stretching exercises and by meditating for an hour for peace and mental strength.
Say no to diet as well?
Yes, you read it right! Akshay Kumar doesn't follow any diet. However, he believes in eating everything but at the right time. Hence, Akshay Kumar always finishes his dinner by 7 pm.  According to Ayurveda, you should eat at least 2 to 3 hours before heading to sleep because your body needs that much time to digest the food. If you eat close to your sleeping time, your digestive processes keep going on, leaving you restless when in bed.
He is a devotee of homemade food. He starts his day with a heavy meal of parathas and a glass of milk followed by fresh fruits and nuts for snacks. Lunch is a balanced meal of lentils, brown rice, wholesome veggies or lean meat and yogurt. The last meal of the day is a light combination of soup and sautéed vegetables. If he feels hungry after 7 pm, he'd probably have an egg white omelette or soup or something that is easy to digest.
If Akshay Kumar has to eat outside, he prefers proteins and avoids carbs. He also advises people to eat every three hours, but eat healthy to avoid unnecessary cravings.
Akshay Kumar's fitness mantra is fairly simple and easy to follow. So, guys and gals out there, start following this superstar's advises and you will start seeing positive changes in your health.
Image source: Image 1, Image 2, Image 3, Image 4, Featured image