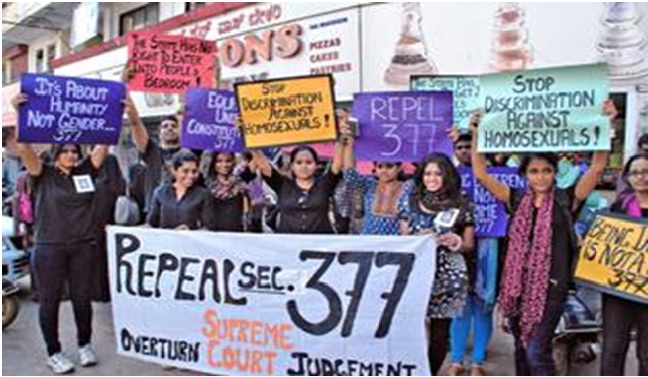 Finance Minister, Arun Jaitley's assertion that the Supreme Court (SC) should not have reversed the Delhi High Court's judgement of 2009 decriminalizing gay relationships; the political parties including Congress, Left and AAP said on Sunday that they would support the Centre if they move to repeal the much controversial Section 377 of the Indian Penal Code (IPC).
Political parties favour dilution of Section 377
According to the Section 377 of the Indian Penal Code, which was introduced during the British rule of India in 1860, it criminalizes the sexual activities 'against the order of nature', arguably including homosexual acts.
However, this section was declared as unconstitutional with respect to sex between consenting adults by the Delhi High Court on 2nd July, 2009. But, this judgement was overturned by the Supreme Court on appeal of religious bodies, on 12th December, 2013; with the SC holding that amending or repealing Section 377 of IPC should be a matter left to Parliament, and not the judiciary. Thus, holding Section 377, this provides the punishment for gay sex, as constitutionally valid.
Arun Jaitley on Saturday said, 'When millions of people world over are having alternative sexual preferences, it is too late in the day to propound a view that they should be jailed. The Delhi high court's view appears more acceptable'.
And his predecessor and Congressman, P. Chidambaram echoed his views, saying that the Delhi HC verdict decriminalizing the gay sex was a wonderful one and the Supreme Court should have stayed with it.
While both of them spoke on the matter in their personal capacity; but their remarks appear to have galvanized LGBT community, which held a 'gay pride' parade on Sunday in Delhi.
Earlier Congress president, Sonia Gandhi and vice-president, Rahul Gandhi had spoken in favour of the Delhi High Court order with Sonia describing it 'as having wisely removed an archaic, repressive and unjust law which infringed on the basic human rights enshrined in our Constitution'.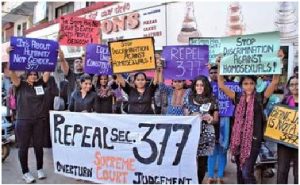 The Congress had even said in its manifesto for Lok Sabha polls 2014 that, 'it would enact a law to ensure that consensual sexual relations between adults of the same-sex are not criminalized'.
Earlier, BJP leader Ram Madhav, in his personal capacity had said that criminalizing homosexuality was debatable. He had also said, 'While glorification of certain forms of social behavior is not something we endorse, the criminalizing and penalizing aspects need to be looked into'.
Sitaram Yechury, CPM's general secretary said, 'Let Mr. Jaitley convinces his own party'. He further added that CPM was the first and only political party, which came out in favour of decriminalizing Section 377. But, BJP needs to evolve consensus within before lecturing on Section 377.
AAP, in its statement just after the SC order, the party had expressed disappointment, adding, 'This not only violates the human rights of such individual; but goes against the liberal values of our Constitution, and the spirit of our times'.
Infact, a group of young lawyers in Delhi has submitted a proposal to the Delhi government on how homosexuality could be legalized in Delhi, irrespective of the Centre's stand or the SC order.
So, now it is for the government to draft a bill for amendment of the Section 377 to legalize LGBT relationships. And a glimmer of hope is that such an amendment would require only a simple majority, as against two-thirds majority, to pass through each House of the Parliament.
Source: TOI
Image Source: Image