A rich specimen of monumental wonders and rich Indian architecture; Akshardham is an abode of God. It's a marvelous and magnificent example of modern day architecture. Millions of travelers and devotees from all around the world visit this divine temple every year. Here are the 5 reasons why you should also visit Akshardham in Delhi.
Reasons to visit Akshardham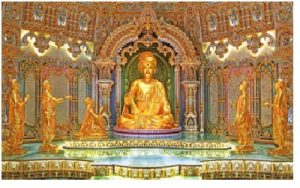 1. Spiritual Significance
The eternal place, Akshardham provides purity, devotion and peace. It's a house of spirituality, representing spiritual stalwarts and helping everyone in moving towards divinity while improving oneself. All these things give immense tranquility and a spiritually enriching experience.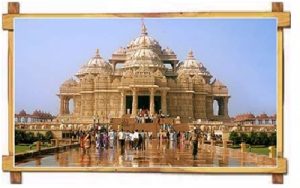 2. A Temple of Amazing Statistics
Largest Hindu Temple Complex in the World, Akshardham Temple has some amazing statistics. It's built in the Medieval Style of Architecture with no usage of steel in the monument. There are 234 Ornately Carved Pillars, 9 Ornate Domes and 20 Quadrangle Shikhars made in Pink White Marble. All these make Akshardham a dazzling human-made beauty!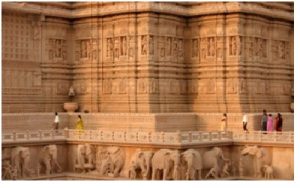 3. Mandovar: The Ornate External Wall
An intricately carved structure with dimensions of 611 fts x 31 fts is the only and the largest ornate external wall built in the last 800 years. The stone effigies of many divine personalities including Rishis, devotees and Aarchayas are also embellished on this wall.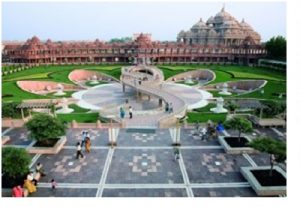 4. Take a Tour
Made with more than 53,956 red stones of Rajasthan; the Akshardham Parikrama has over 1,152 pillars, 145 windows and 154 carved spires. The gallery in the lower Parikrama provides a varied variety of views and insights to the glorious Akshardham monument.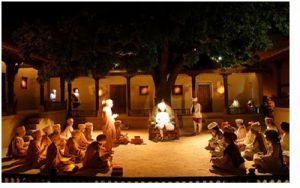 5. An Electronic Visual Delight
The life of the Bhagwan Swaminarayan of Akshardham Temple is portrayed in such a way that the audience feels that they have been transported to the 18th century India! The Audio Animatronics Show, also known as the Sahajanand Darshan includes charming light and sound effects, fiber optics, robotics, music and dialogues.
So the next time you visit Delhi, don't forget to visit the Akshardham Temple nestling on the banks of Yamuna River. This exquisitely beautiful place is indeed a modern signature of the rich Indian architecture.
Image Source: Image1, Image2, Image3, Image4, Image5, Featured.