In India, WhatsApp has become the most important social application which every user, owning a smartphone, has installed. Though most people today has WhatsApp and use it daily, yet there are some functions in WhatsApp that people aren't aware of until now.
Let us see some of such hidden tricks that you may have not come across.
1. Custom Notifications
It can become really boring to check all of your WhatsApp messages just to see whose messages you have received. Or it could be that you are the one waiting for a message from someone special and you have to check WhatsApp every time in anticipation. How boring? Isn't it. But here is a solution; recently a new feature was introduced in WhatsApp called as "CUSTOM NOTIFICATIONS". Using this option you can get alert for messages from your loved ones or close friends or someone special.
Isn't it great??So, if you check this option and enable it for that particular user, then as soon as WhatsApp is connected to the internet, you will get notified by the custom tone which you must have selected for that person. Hence even before touching the mobile you will know whether you have messages from that person or not by the notification tone.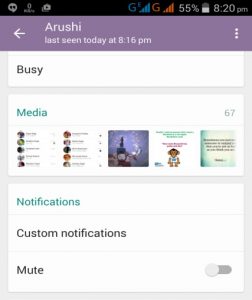 2. Archived Chats
This is an another interesting feature and using this your messages can actually be kept secret or hidden from others. If you want to hide or secretly keep a conversation of someone so that no one can see it then "ARCHIVED CHATS" is the right option. If you long press the chat of that particular person or group chat which you want to hide then you will get a list of options and there you will find Archived Chats. As soon as you select that option, that particular person's whole conversation or group will be archived and kept hidden until you again check that option to Un Archived Chats. Archived chats can be viewed at the bottom of your WhatsApp chat tab.
3. Mark As Unread
This is a much needed feature which is now added in WhatsApp. Just like FACEBOOK, now WhatsApp also has "MARK AS UNREAD" option. By this feature you can actually read anybody's messages in your chat list with letting the person know that you have read. That person will just see that his/her messages have been delivered to you but he/she will be notified that you have not read it yet if you select this option for that person by long pressing the chat of him.
4. Email Chat
WhatsApp now has feature where you can send the whole chat to your email address. By long pressing the chat of a person you get "EMAIL CHAT" option. If you want to send a copy of your messages to someone or you want to keep it safe other than WhatsApp then this option is perfect.You can also use this option for stealing chats from someone else mobile. You just have to take that person's mobile and open WhatsApp into it and then the thing which we want to do comes into action. Choose that person's chat which you want to steal and send to your email, then after choosing just long press that chat and check EMAIL CHAT option and enter the desired email and a copy of that conversation will be sent to that email. That's all, the job is done now.
5. Mute Group
There is another useful feature to keep you at peace. We all know that we make groups so that we are in touch with everyone but there are some groups which we don't want but still have to be in it. However the notification sound of messages from such groups can be a headache.To help you WhatsApp has a "MUTE GROUP" option.
This option can be selected in the GROUP INFO section which you can get by long pressing that particular group. You will be asked how long you want to mute that group, and you can as per your convenience, set the time limit for those group messages. After you select this option you will not be notified about that group's messages but you will only see them in your chat tab. At least you will be free from unwanted sound.