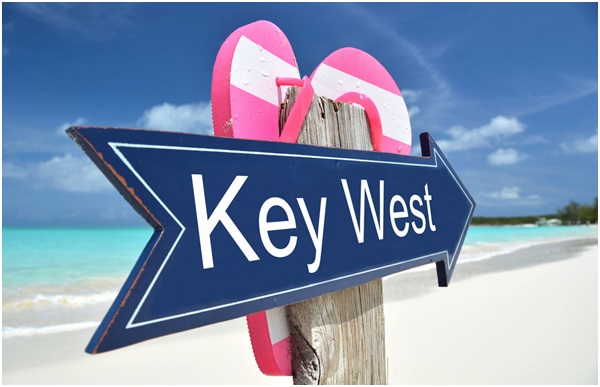 The four by two-mile island, Key West is the southernmost city in the continental United States of America. It is the major tourist attraction for its extraordinary and magnificent views of the sunset. With many houses built out of salvaged ship-boards or coral-rock, the architecture is mainly Caribbean here. And, with its Bohemian and tolerant atmosphere, it still continues to attract artists from all over the world. Here is a list of 5 most beautiful tourist destinations in Key West:
Beautiful tourist attractions of Key West!
1. Southernmost Point!
As we said, Key West is the southernmost point of the continental United States of America. And, at the corner of South and Whitehead streets, a concrete painted in red, black and yellow marker also represents the same. It was established in the early 1980s.
2. Dry Tortugas National Park!
One of the most beautiful and colorful place of the city is Dry Tortugas National Park. It is an archipelago of 7 reef islands. Boat excursions to this place leaves from the city.
3. Martello Towers!
Built in 1858, the Martello Towers are 2 brick fortifications, and was built in order to protect the Fort Zachary Taylor from the east. The central tower here provides some of the most spectacular and exotic panoramic view of the Atlantic coast of the city.
4. Key West Aquarium!
The Key West Aquarium is one of the 1st open-air aquariums in the United States. Here the exhibits include the large outdoor holding pens and the Atlantic Shores. During the tours, visitors can even watch and touch the juvenile nurse shark.
5. Key West Lighthouse and Keepers Quarters!
Built in 1847, the Key West lighthouse stands around 86 feet high. Later, this lighthouse was torn down and replaced with this current structure. Today, it even houses a museum, furnished in order to recreate the early 20th Century.
With many amazing restaurants and shops designed to entertain tourists and cruise ship passengers, Duval Street is another beautiful and colorful tourist attraction of the city.
Image Source: Image1, Image2, Image3, Image4, Image5, Featured