The National Award winning Hindi courtroom comedy drama movie Jolly LLB has now begun its journey with the sequel. Jolly LLB was a Arshad Warsi starrer movie which received many praises from the critics. The fans are now eagerly waiting for its sequel.
First Look OF Jolly LLB 2 Unveiled
Finally the very first look of Jolly LLB 2 is unveiled. The first look of this much awaited sequel was unveiled by Saurabh Shukla on Twitter. This time again Saurabh Shukla will play the lazy judge. A poster came on Twitter which has a captioned stating – "Started shooting JOLLY LLB 2". Check out below the Poster with a Caricature of the stars-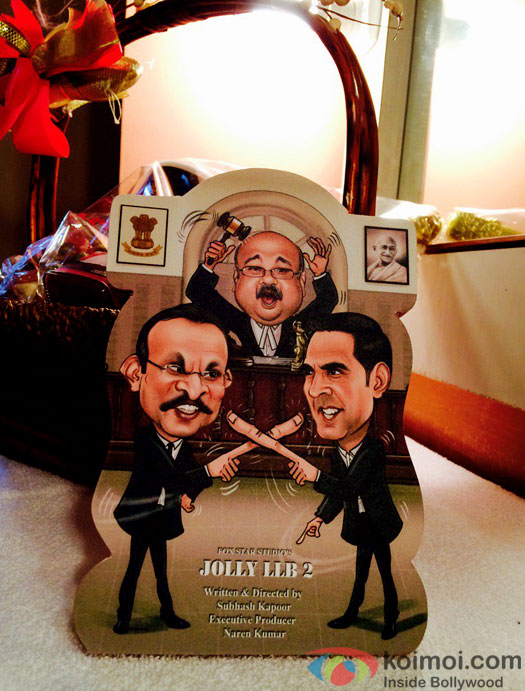 Jolly LLB 2, Here Are 7 Quick Updates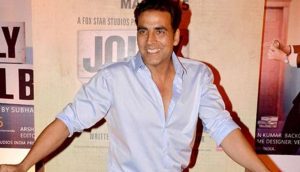 1. Shooting began today, yup this is a good news isn't it? finally the shooting has begun for the much awaited sequel of Jolly LLB.
2. The lead role of a lead lawyer will till time be played by Akshay Kumar. Yes, Akshay has replaced Arshad Warsi in this sequel. This movie is in fact one of the much awaited movies for the Akshay kumar fans.
3. The character which will be played by Akshay Kumar's is said to be inspired from a real-life lawyer. The name of this of this real life lawyer is Jagdish Mishra who is from Kanpur. The story of Jolly LLB 2 will revolve around the journey of this lawyer, and how he became immensely successful in winning one of high profile cases.
4. Remember the rival lawyer from Jolly LLB? Boman Irani. Well will time its Annu Kapoor. We all know how awesome an actor this man is, hope to see him bang on this time again.
5. According to unconfirmed reports, Huma Quershi will be playing Akshay's lead lady.
6. The sequel is written and directed by Subhash Kapoor.
7. Jolly LLB 2 is expected to hit the screens in the year 2017.
The 2013 film, Jolly LLB story revolved around the story of a struggling lawyer. 2013 Jolly comes upon a hit-and-run case and then he decides to fight for the victims. Let's wait and watch what this 2017 Jolly has in store for us.
Image Source: Image 1, Image 2, Image 3, Image 4, Featured Image.