Bored of visiting typical tourist places? Then, here is a list of 5 beautiful villages in India for you. The best part of these villages in India is that these are unexplored, less visited and extremely scenic. So, read on to know these magnificent places and visit them on your next trip.
1. Chitkul: It is one of the less heard and visited villages in India. That's because its the last inhabited village on the Indian side of the Indo-China border in Himachal Pradesh. The village is located in the Baspa Valley in Himachal Pradesh. There are no permissions required to visit this village. Chitkul is one of the well known villages in India growing finest quality peas and potatoes. Visit the 500 year old temple dedicated to the local goddess Mathi in the village. You can stay at the nearest town of Sangla. The best time to visit Chitkul is between May and October.
2. Touphema Tourist Village: It's one of the many heritage villages in India and its situated in Nagaland where one can experience the true Naga culture, apart from feasting upon authentic Naga cuisine. The Touphema Village is about 100 kms from Dimapur and 41 kms from Kohima and is situated on a hillock surrounded by lush green valleys. You can also enjoy the traditional Naga dance and celebrations. Visit the museum within the village and guided walks to nearby hills and visits to paddy fields are available. It is one of the villages in India, which can be visited at any time during the year.
3. Kumaon: This one of the famous villages in India. However, it is also less visited. Its mainly famous for being one of the hunting grounds of the maneating tigers in Jim Corbett's book. Now, this village is famous for magnificent views and heavenly beauty. Tourists can visit this place for hiking. You can visit the village between November and March.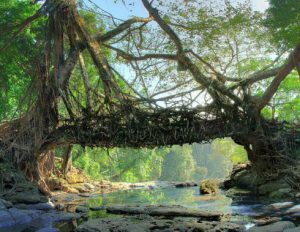 4. Mawlynnong: It is one of the cleanest villages in India. Not only that, Mawlynnong is also voted as Asia's cleanest village in many polls. You will be surprised to see that a village can be so well developed. The village is located in Meghalaya state and is around 90 KMs from Shilong.
5. Ziro: It is yet another less known and visited villages in India. If you are looking for an offbeat tourist destination, then this is the place. The village hosts some of the best music festivals in the country. This beautiful village in Arunachal Pradesh can be visited in the summers. The summer season starts in April till the end of June; while the monsoons start in July and end in September. Winter sets in by November and lasts throughout February.
So readers, how do you find these places? Make sure that you visit these places when you travel to the respective states.
Image source: Image 1, Image 2, Image 3, Image 4, Image 5, Featured image