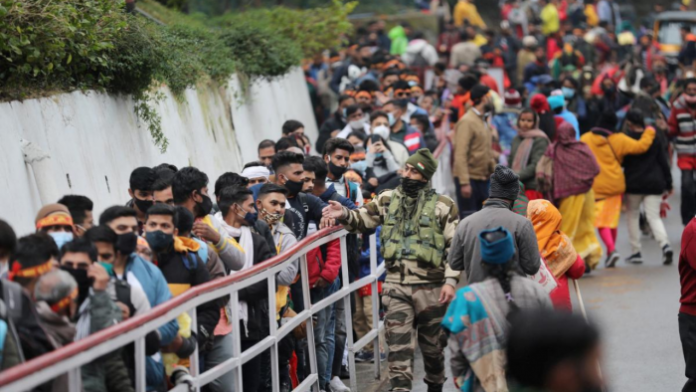 People in the know would vouch with certainty about the way Indian pilgrimage to several holy places is conducted where more often than not, extremely important safety and hygiene-related aspects are completely ignored. And another aspect that always gets overlooked is the crowd management protocols never living up to the expectations or declared objectives. We all know what the consequences will be in failing to exercise better control over crowd management. Invariably, stampede-like situations will play out resulting in the loss of precious lives. Any number of stampede instances in the past substantiates the same and sadly, no lessons seem to have been learned to stall repetition of the tragedies.
PC: PilgrimageTou
One such incident occurred on the very first day of the New Year when 12 devotees were crushed to death outside the revered Vaishno Devi shrine, an important and popular pilgrimage site in Northern India. As you are aware, while this yatra has seen lives being lost due to natural disasters like landslides in the past, Saturday's stampede was the first of its kind concerning the shrine. And while people, especially young people, flocking to the cave shrine to celebrate New Year is a new trend, Vaishno Devi is quite accustomed to crowds growing big on special occasions like Navratri and schools' summer holidays. However, what transpired was neither business as usual nor should it be treated as such.
The Shrine Board, chaired by the Jammu and Kashmir Lieutenant Governor, who also nominates its members, has conveniently placed the blame on a scuffle between two groups of pilgrims. Further, it has also countered charges of overcrowding by saying that as against the National Green Tribunal capping the yatra's normal capacity at 50,000 people per day, only 35,000 were allowed to proceed on 31st and 01st, as a Covid precaution. It went on to mention that the board, the local administration, police, and CRPF all did their job well. Nonetheless, widely available visuals and witness accounts tell quite a different tale altogether contradicting what the J&K administration has narrated. Obviously, none of the safety and health protocols prescribed were followed diligently.
PC: thehansindia
Forget social distancing, queues entering and exiting the shrine were swelling into each other, crowd management going out of control, and the shrine was also filled beyond the brim. Needless to mention, this was just asking for trouble. The J&K administration has set up a high-level probe and the Shrine Board resumed the yatra within a few hours. This is a common scene after such tragedies at different temples and ghats. However, if accountability is not fixed, it is like saying to the dead that it was just their fate. Make no mistake, the cause of the crowd management failure must be pinpointed exactly so that any future crowds' flow paths remain smooth to ensure bottlenecks get cleared before lives are lost. Any laxity on the part of the organizers should be dealt with appropriately to ensure accountability does not get lost in the milieu.