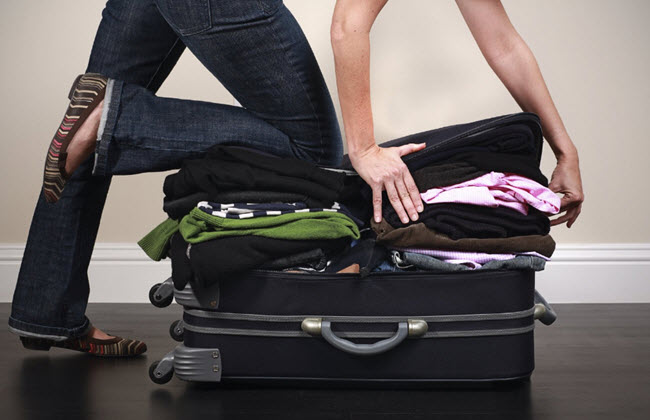 Monsoons are one of the best seasons to plan a vacation. It can either be a weeklong vacation or just over the weekend. No matter how many days you are going for the vacation, the most important part of holiday planning is packing the luggage. Though many people don't give this part much importance; it's better to pack smartly; so that you don't end up spending time in searching for your stuff when on vacation. Here are 10 tips for packing luggage for making your holiday a success.
1. Make a day-by-day plan: Over-packing certainly doesn't come in the tips for packing luggage. However, you should make sure that you pack your stuff;. i.e. clothes, shoes, toiletries and other stuff according to the days of your vacation. I literally sit down and make a list of clothes I am going to wear on each day during the holidays. And make sure, you mix and match your clothes. It is absolutely fine if you repeat your denims for 2-3 days (or on alternate days) if the weather and place allows. In case, you end up packing less clothes, you can always buy a cheap pair of shorts at the holiday destination to cover up for the lack of clothes.
2. What to pack: Well, nobody requires a prompting for this. However, I have included this as well in the tips for packing luggage. A general list consists of undergarments, socks, shirts, T-shirts, dresses, denims, shorts, shoes and slippers. Always do a research on your holiday destination and the time you are going to visit these places. Make sure you pack extra stuff according to the weather; such as sweaters (for winters), raincoats and umbrellas (for the rainy season) and hats, sunglasses and sunscreen lotion (for summers).
3. Carry clean undergarments for every day: I am sure this is one of unmentionable tips for packing luggage. However, this tip is quite useful. It's okay to repeat your clothes; but definitely not the undergarments.
4. Carry pants, shorts or slacks of the colors that can be matched with everything: If you choose very peculiar colors for the bottoms, you won't be able to repeat them. Hence, make sure the color of the denim, pant, slacks or shorts is such that it suits most of your tops.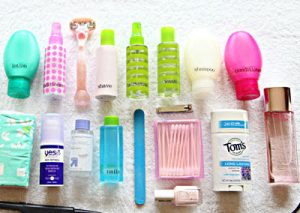 5. Carry all possible toiletries: One of the not-much-considered; but highly useful tips for packing luggage. Now-a-days, most of the hotels and motels provide you the basic toiletries such as soaps, shampoos and toothbrush. However, don't depend on these hotels and carry your own toiletries. The lists of toiletries consist of a soap for bathing, hand-wash (or paper soap) for toilet, shampoo, conditioner, face and hand creams, sunscreen lotion, comb, lip balm, deodorants, toothbrush, toothpaste and shaving kit. Thankfully, every other general store around you will have smaller sizes of all these toiletries that will fit in your purse or a small pouch.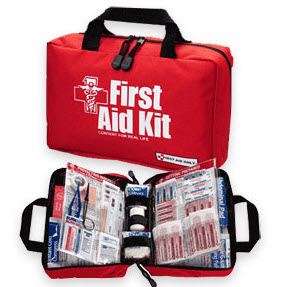 6. Carry a medical kit: Expect your holiday destination is a jungle, you will mostly get medications in every city. However, just like other tips for packing luggage, I will suggest that carry your own medical kit. This should contain, antiseptic liquids, creams, cotton and painkiller. Again, carry the smallest sizes of lotions and creams.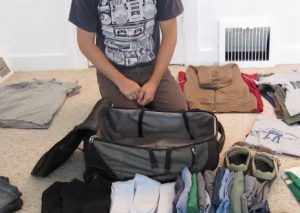 7. Start with undergarments: Now we come to those tips for packing luggage that are the most important. How to fit all your stuff in the bag. You definitely want to return with some souvenirs. So, pack the clothes in such a way that they occupy less space. Start with undergarments and socks. You can also keep your shoes and sneakers at the bottom of all your stuff.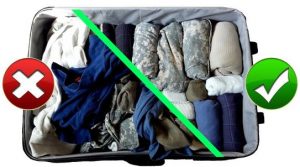 8. Roll your clothes instead of folding: The best way to utilize the space is to roll the clothes. If your clothes are rolled tightly, they won't get wrinkled. You can either roll them together by keeping one clothe into another; or roll them separately. Clothes like sweaters don't have any effect in whatever way you keep them.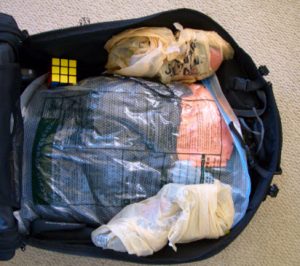 9. Fill all the corners of the bag: Small items such as belts, underwears and scarves can be crammed in the corners. This will utilize every single inch of the bag and also stabilize it. Toiletries can be kept on the top of all the clothes, so that you will find them immediately.
10. Manage the used and dirty clothes while returning: With this, we reach to the end of the tips for packing luggage. To avoid the hassle of managing the dirty clothes, you need to start keeping them aside from the beginning. Carry a compressor bag or at least a separate normal bag for keeping these used clothes. Also, make sure you keep them wrapped in the dryer sheets to avoid stinking.
All these tips of packing luggage will help you enjoy your vacation to the fullest.
Image source: Image 1, Image 2, Image 3, Image 4, Image 5, Image 6, Image 7, Image 8, Featured image