History repeats itself is an adage that rang true in the past, will ring true in the present, will keep ringing true in the future as well. How often have we heard about the same during our lifetime? Scores will nod their heads in unison for sure when someone says several times. Yes, we shall be using the maxim yet again but in the context of something which is abhorred by all of us though what is occurring amongst our midst is beyond our realm. The year 2020 proved to be anything but pleasant for the entire universe owing to the unprecedented challenges wrought by the pandemic. Unfortunately, the year 2021 as well appears to be heading in the same direction.
PC: Seham Momaneh
Especially, the way huge uptick in the confirmed covid infection rates is breaching newer peaks, there is no respite visible in the foreseeable future for humankind. The Indian scenario appears to be dire as compared to the last year as the second covid wave sweeps across the country armed with terrifying infectiousness and fatality subduing the healthcare infrastructure tremendously. Many severely affected states are scurrying for cover making every ditch effort to further spruce up healthcare infrastructure to attend to a monumental number of infection cases. We stand starkly exposed in meeting the surging demands for beds will be an understatement.
Our deep-rooted bane of not anticipating challenging scenarios combined with a general lack of apathy towards strengthening crucial healthcare facilities will be straining under the weight of an alarming rise in the infection rates. Of course, the government authorities alongside medical experts and other related ancillary staff will leave no stone unturned in gearing up for the frightening scenario, it is not out of place to honestly introspect whether we would be able to provide adequate resources to the sufferings of the multiplicity of humanity. Of course, simple provisioning like beds, availability of oxygen, ICUs, and ventilators would require little effort.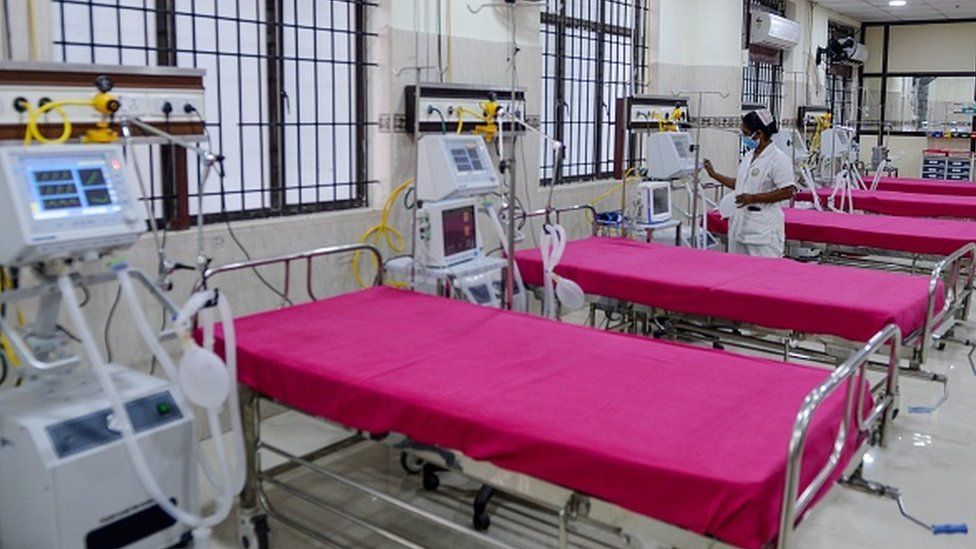 PC: Soutik Biswas
However, what would be posing uncomfortable questions would be to find an adequate number of trained medical staff vis-à-vis doctors, nurses, para-medical staff, and other support staff to ensure visiting patients are attended to on expected lines. We all know how stretched, fatigued, and overwhelmingly burdened our healthcare workers are ever since the pandemic was declared last year. Besides attending to non-covid patients, medical staff is nursing covid patients as well as undertaking vaccination drives and concurrent immunization drives too. It is no rocket science to gauge the enormity of the work pressure on the medical staff to deliver a slew of services.
The government authorities should explore the possibilities of requestioning the services of retired medical staff – including doctors and nurses – and hiring the desired amount of manpower on a contract basis to augment the existing staff. Also, requisitioning the services of final year medical students would not be a bad idea at all alongside volunteers who could be trained in rendering basic administering of medical aids. Setting up temporary beds is fine but if there are none to administer the required treatment then the entire purpose of setting up facilities stands defeated. Authorities concerned should concentrate on this aspect on a war footing.