No less than Prime Minister Narendra Modi has exonerated the citizens of the country to consciously avoid large gatherings because of the Covid cases still not reducing on expected lines. The second Covid wave though appears to have come down from its peak as observed during May, the trend visible during the last couple of weeks or so suggests plateauing of the infection cases but nowhere near taming the menace with certainty. Following stringent lockdown measures announced by respective states over the last three months, the restrictions are being eased allowing for economic activities to pick up the pace.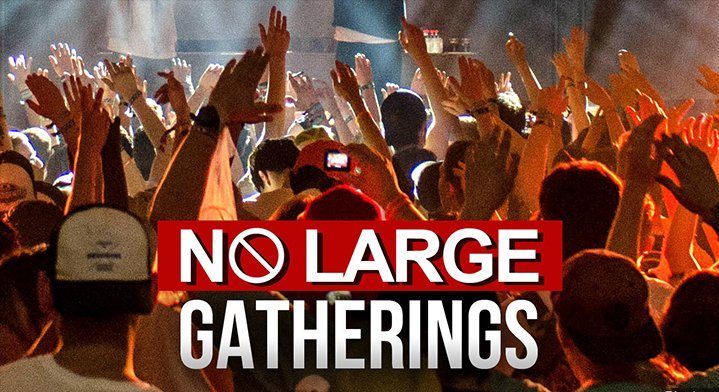 PC: KWWL
As if on cue, large gatherings too are back what with people flocking in large numbers whilst visiting malls, markets, parks, and for reasons of ceremonies, religious congregations, as well as travel. Make no mistake, people cooped up for too long over the last year and a half would wish to indulge in unwinding by moving around as if on a mission. A new term is coined to describe the phenomenon i.e., revenge tourism or fatigue purchase if you like. Pent-up feelings are crying for outlets and people confined indoors for too long would think what better way than visiting places – nearer as well as far away – by throwing health caution to the wind.
The medical and scientific fraternity is of the firm opinion that the Covid appropriate behavior like social distancing, masking, sanitizing alongside testing, tracking, treating, and vaccination will continue to remain inviolable in the foreseeable future. This precaution advisory is largely owing to the prowess of the virus to perpetually mutate what with newer variants making their way leading to further destructions in our already battered daily lives. The vaccination drive is not picking up the intended pace as supply-side challenges are severely curtailing the efforts to inoculate all eligible beneficiaries in the desired manner. No wonder, the wait to receive the vaccine will continue.
PC: DNA Web Team
Left with no better option, the Government authorities will embark on a mission to urge citizens to not let their guard down so soon as the menace of the virus is still lurking amidst us. As keen observers of the phenomenon would have noticed, the first Covid wave peak of 96 plus thousand infection cases per day was bettered by the more devastating second Covid wave peaking at more than 4 lakhs of infection cases per day. The present daily infection rates are reported at 40 thousand plus range consistently which is almost half of the first wave cases. It only goes to show that the second Covid wave is still alive and kicking which could lead to yet another spike in no time.
Therefore, it is imperative all of us strictly adhere to safety and health protocols including those having received both doses of vaccines. Any complacency, laxity, and sheer negligence in failing to abide by the norms is bound to provide a red carpet welcome to the virus to unleash yet another round of destructions on the hapless citizens. Avoiding unnecessary traveling and gathering should be the mantra. On its part, the Government of India should ensure an uninterrupted supply of vaccines to states and also make efforts to grant emergency user approvals to even more vaccine candidates to supplement the inoculation drive.