Films without a villain is always incomplete. And few of these characters are so good with their work that they leave a lasting impression on our minds for their negativity.
Despite of being so hated they are extremely popular and loved. What makes them famous? Their dirty dialogues, evil and cruel acts.
Take a look at Bollywood's most loved villains of all times-
1. Gabbar Singh – Sholay
The list of most loved villains can never be complete without Gabbar Singh. Remember his dialogue "Kitne Aadmi the"? He is the biggest of all the bad man in B-Town. Amjad Khan played the character of cruel Gabbar, and this character contributed immensely to the success of Sholay making it a blockbuster.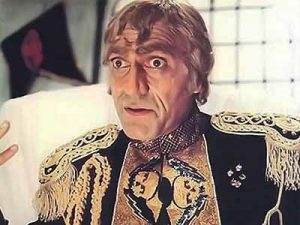 2. Mogambo – Mr. India
"Mogambo Khush Hua" this was an iconic dialogue in the movie Mr. India. When we talk about Amrish Puri, the very first character that strikes our minds is the unbeatable Mogambo. This character had a unique costume with a stick and a throne along with a group of loyalists who were ready to jump in acid water on his one call, he basically wanted to conquer the world.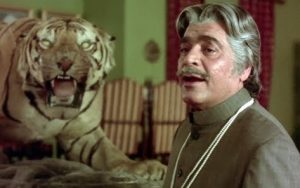 3. Loin – Kalicharan
"Sara Shehar Mujhe Lion Ke Nam Se Janta Hai" Remember this dialogue? The suave villain who had an individual style and characteristic accent became very popular. This character was played by Ajit in the movie Kalicharan. Lion was a villain who had a distinctive style and was a super-suave killer.
4. Prem Chopra – Bobby
Prem Chopra was Bollywood's one of the biggest Baddy. He has a nasty smile which was a trademark for him. He was famous for all his evil activities, be it murder, blackmailing or a rape, he has done it all. One famous dialogue was enough to introduce this bad character- "Prem Nam Hai Mera – Prem Chopra" and in the movie Bobby the dialogue which was a great hit was "Main Woh Bala Hun Jo Shishe Se Pathar Ko Tod Deta Hun".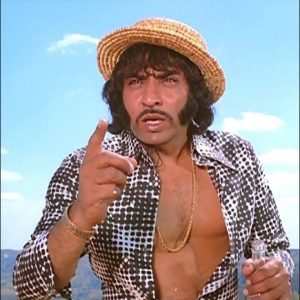 5. Ranjeet
You are right, we are talking about the man who had a locket dangling on his bare chest, and had eyes which always signs lustful expressions. One of the most popular on-screen baddies of the '70s and '80s. He holds a record of committing 350 on-screen rapes. He has been a part of very popular movies, few of them are Amir Garib, Vishwatma, Haath Ki Safai, and Dharamveer.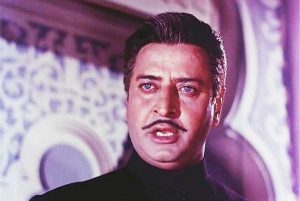 6. Gajendra – Ram Aur Shyam
This character was played by Pran. He was the cruel brother-in-law in the movie Ram Aur Shyam. This particular character stands out in the memory of the audience even today. Pran did a remarkable work on this character, post this even the villain's role started getting as much importance as that of the hero's. He portrayed such a strong character, that the moment he came on the screen the audience used to start abusing him. It actually induced anger among the audience's. Pran was such a talented actor that he was often paid more than the lead actors of his films, when his career was at its peak.
7. Sir Juda – Karz
He had no dialogues to say, but despite of being so rare he left a remarkable effect on the audiences. This character was played by Premnath in the movie Karz. He was a mute but at the same time unkind villain of Bollywood. As he was mute, he used to give orders through a series of knocks, and his sidekick was played by Mac Mohan. Sir Judah didn't have any dialogues, but Mac Mohan's translated dialogue "Sir Judah Kehtey Hain."was a hit.
8. Sukhi Lala – Mother India
The immoral landlord, who tried to take the advantage of the distressed Radha. Even during the time when she begs for food for her starving children, made Sukhi Lala, one of the most hated men in the movie Mother India. This movie had no great background music, or strange camera angles, but the character was so well managed by Kanhaya Lal. His typical style of saying "Radha Rani" made the blood of many people boil.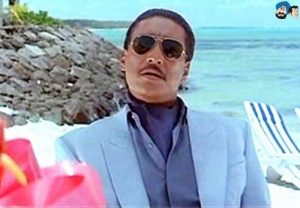 9. Kancha Cheena – Agneepath
Danny Denzongpa who played the Kancha Cheena character in the movie Agneepath The character was so well played and was too convincing in all scenes, be it costume or the power packed dialogues, everything was a plus for the film. Kancha Cheena was a self-proclaimed emperor of the underworld, and this character is one of the best played underworld don characters in Bollywood Industry's history. Audience still remember Danny's impressive performance.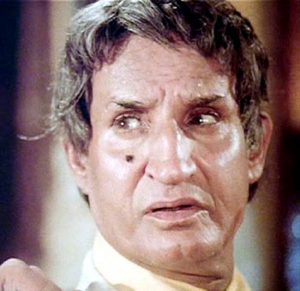 10. Robert – Amar Akbar Anthony
In the era of 60s, 70s and 80s, Jeevan was one of the top bad guys of the Bollywood cinema. He acted in many films, but the character of Robert in Amar Akbar Anthony is worth an applause. His dialogue delivers style elevated the performance in all his movies. Jeevan mostly acted in the villainous type of roles.
We cannot say that these characters will always stay in our hearts, or can we say so? They have surely made a remarkable presence in the History of Bollywood Industry, with their impeccable performances.
Image Sources: Image 1,Image 2, Image 3, Image 4, Image 5, Image 6, Image 7, Image 8, Image 9, Image 10, Featured Image.