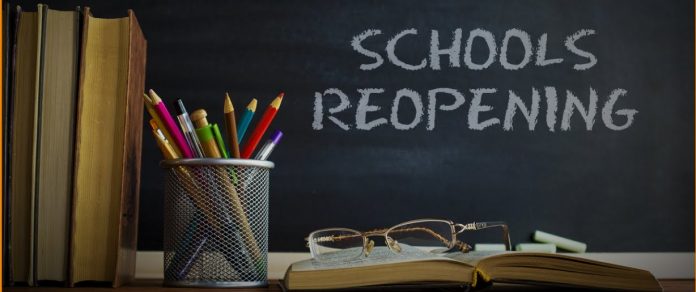 Taking a cue from the Union Health Ministry's advice, many states in India are allowing the schools to reopen after a long gap of 18 months or so. Everybody in the know would mention in unison that such a move is inevitable as education has suffered an unimaginable downturn during the period of closure. Further uncertainty surrounding the opening of the schools would have only exacerbated in seriously damaging the prospects of an entire generation who might be deprived of quality learnings required to prosper on expected lines. As has been noticed, the interim arrangement of pedagogy using the online medium can only fetch limited returns proving beyond doubt that the classroom teachings can never replace other alternative ways.
PC: ABANTIKA GHOSH
The scientific, medical, academic, and other related experts from the field are veering around to the view that the damages accruing by postponing the reopening of schools would be more severe and telling than the fear of the virus infection. Hence, the concerned ministry went ahead with the recommendations to commence academic sessions with a rider. Wherever the confirmed infection rates are well within the realms of control vis-à-vis case positivity rates are advised to invite students into the campuses. Yes, there are few states like Kerala and Maharashtra still reporting high rates of infection ruling out carte blanche opening of schools. Nonetheless, certain pockets free of alarming infection rates should go ahead with opening the schools without any apprehensions.
It is worth acknowledging the fact that the state of Karnataka has managed to bring down the infection rates to manageable levels. For the past few weeks, there has been a steady decline in the case positivity rate too owing to aggressive testing protocols adopted by the authorities. The statistics made available speak for themselves. No wonder, the Karnataka government too has taken a welcome decision to start the portals of learning keeping the health and safety advisory in mind. Make no mistake, it has reached a stage where the merits of online teachings are being questioned. By first allowing colleges and universities followed by higher grades of 9 to 12 is a logical step indeed that will go a long way in ensuring the education kickstarts in right earnest after a long lull.
PC: DQW BUREAU
Based on the observations and reports originating from ground zero, the government has further extended allowing of grades 6 to 8 which should bode well for the overall feel-good factor, especially to the student community eagerly looking forward to resuming normal routine. Needless to mention, the dangers of the anticipated Third Covid wave ostensibly targeting children below 18 years is hanging overhead like the Sword of the Damocles but should be able to overcome by diligently observing Covid-appropriate-behaviour. Hopefully, the vaccination drive would sustain the pace inoculating the eligible receivers in the coming days. Allowing inoculation of children between 12-18 years would be most welcome too. Something to cheer amid gloom for sure.