Elephants, be it grey, brown, or white, is a powerful and beautiful animal. You may have seen the normal brown elephant, but white elephants are rare.
No, we are not discussing about the colors of elephants, but using an idiom as White Elephant. The white elephant refers to high maintenance, but unwanted and useless things which give nothing in return (The zero return on investment).
Ironically, in regards to a developing country like India, we have a lot of White Elephants. Several Government ministries, departments and posts are deemed as useless along with a high maintenance cost and a huge burden to the country's economy. The powerful political class and the bureaucrats precipitate the white elephants of India. They want to sustain the useless things to leverage the facilities, flourish their VVIP status on tax payer's money.
The Indian White Elephants:
The useless ministries of India
The central government has a number of ministries and departments under it. These ministries and departments are either already exists with different names or have no contribution to the nation's growth.
According to a study- There is no need to form an AIDS control department of central Govt., when you have the National AIDS Control Authority. Likewise the separate departments of Medical research, when there is an Indian Council for Medical Research, the Department of Scientific and Industrial Research (DSIR), and the Council for Scientific and Industrial Research (CSIR) are already existing.
Other instances are- the departments of disability affairs (social justice and empowerment ministry), official language (home affairs ministry). Also, there is no need to formulate an Information and Broadcasting Ministry in a democracy.
The useless manpower 
India needs to have skilled manpower in terms of productivity. India is laggard in creating factory jobs, the aggregate labor productivity is declining, and we are spending more and more on useless manpower. For instance, the deployment of CISF guards at airports for useless rubber-stamping. It costs Rs 1,200 crore annually in wasted manpower, paper and ink, notes, and all expenditure contributes a big zero to the nation's growth. Likewise, there are more security guards per square kilometer with relatively less crime, so we have to manage all disparities and have to use the best of our manpower.
Air India- a white elephant 
The accumulated loss of Govt. owned Air India is more than 67,520 crores. This loss is more than the shutdown Kingfisher airlines (16,024 crores). A taxpayer cannot even count the above loss management produced by our well managed Governments.
Don't you think so had the Govt. not been on place, the situation would have been better? Politicians along with their relatives, goons are using Air India to travel across the globe without spending a single penny and to sustain their VVIP status. And Of course on the tax payer's money.
The useless airports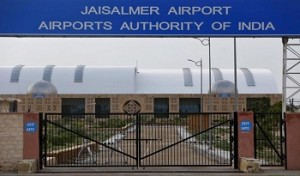 From the infrastructure point of view, many airports are not being used in India. They are just built, but not put to use. For instance, Jaisalmer airport is a perfect fit in useless white elephant category. Many states have the useless airports.
Public sector white elephants
HMT, NEPA, Tyre Corporation of India and many other Tea, salt, scooters, cement, bearings, and cables- the government enterprises involved in manufacturing have been sick to the core. Ironically, our policy making governments refuse to accept the truth. These governments' enterprises are getting crores as an investment, and return nothing to the nation's growth.
The hosting of games
Hosting a game on international level, is always a proud moment for any country. But for India, especially its politicians and bureaucrats, it's a source of making money and gets benefited to their family members and goons. For Instance, the CWG scam, International cricket tournaments conducted by the so called autonomous entity BCCI.
Author's View
India is a developing country and rather should I say we are poor in some regards. Implicitly, we cannot afford the wastage of our resources, time, and money. My aim is not to criticize the government's work, but to reveal some bitter truth, which we have to handle and rectify. We need to make strategies, analyze, apply, and implement those strategies honestly with zero tolerance over corruption, inefficiency, and black money.
Image source: Image1,Image2,Image3
Reference: Dailymail, India today
Meet the Author