No doubt, the pathway of Vijender Singh after being transformed from an amateur to a professional seems to be seamless; but the Indian boxer has put a lot, from rigorous training sessions to the new mental avatar on the social media as well! Ahead of his bout against viper's venom sipper Alexander Horvath, Vijender has opened up saying that he will reply with desi ghee diet.
Vijender Singh ready for his next bout!
Today's bout of Vijender Singh against the Hungarian middleweight boxer, Alexander has evoked significant curiosity around the world, especially among the Indian boxer's fans, which usually don't come across such professional bouts! More importantly, what is adding more curiosity among the fans is the fact that Alexander is drinking snake's blood so as to enhance power and endurance levels to beat the Indian boxer!
Vijender's reply to snake's blood with desi ghee!
While talking about his opponent, Vijender said that he will reply with desi ghee diet against the viper's venom! He said, 'What else can a scared man do? It is something I am completely against. I love animals and respect them a lot. And, he should not be doing this!'
He further added, 'Probably it's his way to prepare and think that he can beat me; but I feel my normal diet containing desi ghee is enough to generate power in my punches and beat him badly'.
When Vijender Singh turned pro!
On 29th June, 2015, Vijender bid adieu to his amateur career by turning professional. He has signed a multi-year agreement with the Queensberry Promotions through IOS Sports and Entertainment. This has also ruled him out of the 2016 Olympics, because he no longer remains eligible as an amateur!
Earlier bouts' results!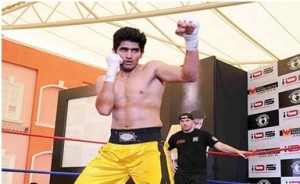 Vijender has indeed proved his credentials by delivering three consecutive wins on the pro circuit, that too, in less than five minutes each!
On 10th October, 2015, Vijender fought his first professional boxing match in Manchester Arena, England, and marked his first win. He defeated his opponent, Sonny Whiting in 3 rounds by Technical Knock Out (TKO).
Later, on 7th November, 2015, he defeated Dean Gillen in National Stadium Ireland by Knock Out (KO) in just single round. Further adding to his glorifying winning streak, Vijender went on to beat Samet Hyuseinov in 2 rounds on 19th December, 2015 in Manchester Arena, England.
Rigorous training sessions!
Speaking about his training, Vijender said, 'I am training much harder from the time I came to England late last year. I will fight in a 6-round bout on Saturday, but I am training up to 10-12 rounds. It's also because by July, I have to prepare for a 10-12 round bout I will fight for the Asian title.'
He further said, 'The training comprises shadow boxing, heavy bag training for about half an hour, speed bag, sit-ups, pull-ups and a lot other exercises. It's a pretty exhaustive schedule here and it will keep getting more rigorous. I have advantage of sparring with continental and world champions and that helps me skill-wise.'
A word about his opponent, Alexander!
Till date, Alexander Horvath has 7 bouts and 31 rounds to his credit. From this, he has 5 wins under his name. Although, the Indian boxer has knocked out his opponents even before most of his fans had barely settled in their seats in boxing arenas; but Alexander is pretty much confident to beat him!
He said, 'I don't think Vijender is a strong opponent in front of me. He has a record of 3 wins while my record is 5 wins, so I have an edge over him. I am confident I will knock him out in the first or second round to register my 6th win.'
A chance in Rio Olympics!
The world boxing body has recently indicated that it might be allowing pros at the quadrennial event. On this Vijender said, 'Participation in Olympics has been the most glorious moment for me and I also won a bronze there in 2008. I want to compete in my fourth, but as you know AIBA is yet to come up with a decision about pro boxers' participation. I don't know whether I will have time to get through the qualifiers.'
Meet the Author