The President of Pakistan Mr. Mamnoon Hussain criticized Valentines day and said there is no connection of Valentine's Day with our culture and nation, so it should be avoided. He addressed to the crowd of students by saying that Valentine's Day traditionally celebrated in west, and there is no place of this festive in our Muslim nation.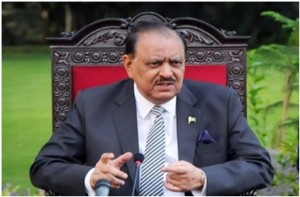 Despite of being a Christian holiday, Valentine's Day has been gaining popularity among Pakistanis crowd with flower vendors reporting booming sales in recent years. He asked Pakistanis not to observe Valentines Day and wants to ban it officially in the capital.
The local media said, In Peshawar, the members of the district assembly on Friday announced and passed a resolution to ban Valentines Day celebration.
Anti- Valentines Day organizations
There are so many anti-Valentines Day organizations who had promised to refrain this festive by violence and protest it by bullying couples celebrating the day of love and often blackening their faces. Here are list of 7 political groups who troubled lovers in past.
Shiv Sena and Bharatiya Vidyarthi Sena
The members of the student wing and shiv Sena in Nagpur in 2015 stormed the Botanical Garden were made couples to do sit ups. The general secretary of Shiv Sena Sandeep Mukherjee said they organized a long survey across various parks, malls and asked youngsters not to celebrate 14 February as it was being a black day in the Indian history, as it was Feb 14 when the great leaders Bhagat Singh, Sukhdeo and Rajguru were sentenced to death. So they were planned to inform youths about this tragic fact.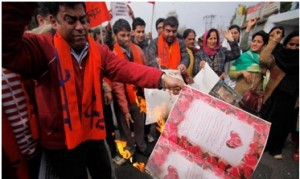 Akhil Bharat Hindu Mahasabha
In Uttar Pradesh this group troubled many corner couples particularly inter faith ones on valentine's day and ask them to get married right away to prove their intimate love and relationship.
Bajrang Dal and Sri Ram Sena
These groups also warned youngsters against celebrating the anti-Indian Valentine's Day. Bajrang dal also acted aggressively against couples celebrating Valentine's Day.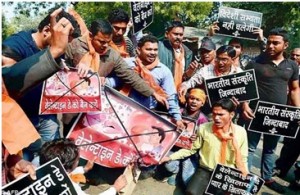 Vishva Hindu Parishad (VHP)
A member of VHP said why people following western culture by celebrating this Valentine's Day. Why do people show their love particularly on this day only? They organize a blood donation camp on this day and take out rally to inform youngsters and other people.
Akhil Bharatiya Vidyarthi Parishad (ABVP)
This group decided not to protest this day and instead of protesting they requested couples not to follow the western culture.
Security was stepped up across the nation on the eve of Valentine's Day to ensure nobody takes the law into their hands in the names of moral.
Meet the Author