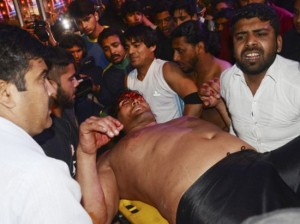 Dalip Singh Rana popularly known as The Great Khali injured himself in a sporting event which was held at Haldwani in Uttarakhand on Wednesday. According to reports, the foreign fighters who were a part of the event were responsible for the injuries when they knocked Khali with punches and chairs.
The Great Khali was participating in the first event of 'The Great Khali wrestling show' at the Indira Gandhi International Cricket Stadium which is situated in Gaula Par where he suffered the injuries.
According to some websites, Khali was admitted to ICU division of Brijlal Hospital where he would be under observation for the next 24 hours. I am attaching this video below for you to catch up on how he got injured.
The Great Khali – Background and Details
1.Khali is best known for his time with WWE, where he was a one-time World heavyweight champion. He was last seen in the 2014 royal rumble pay per view.
2.He has also appeared in other wrestling promotions like Deep South Wrestling, New Japan Pro Wrestling and is one of the few wrestlers who have actually killed another professional wrestler by accident.
3.He has feuded with big wrestling names like The Undertaker & John Cena. He even feuded for the WWE Championship (now the WWE World Heavyweight Championship) which he never won.
4.The Great Khali has also participated in India's biggest celebrity reality show, Bigg Boss (season 4) where was a runner up.
5.In addition to this, he also owns his wrestling school in Punjab. Continental Wrestling Entertainment(CWE) which had held its first event on 12th December 2015.
6.He has also appeared in a few movies like Kusti, The Longest Yard, Ramaa: The Saviour and Get Smart.
Well, we hope that The Great Khali gets well and returns to the ring soon.
Image Sources: Image 1,Image 2,Image 3 & Featured Image.
Video Source: YouTube.
Source: DNA India,Hindustan Times.
Meet the Author