Saturday 13 February, Marco Rubio and Ted Cruz had a Spanish-stand off at the Republican primary debate which was held in South Carolina. Both the Cuban-American senators clashed on immigration, where both kept suggesting that the other was for amnesty. Further they kept on reminding the audience they both speak Spanish.
https://www.youtube.com/watch?v=Apa26F0dRDI
Why Ted Cruz Started Debating Marco Rubio In Spanish
The debate started with a question on immigration, which was posed at Ted Cruz. But he took this as an opportunity to attack Marco Rubio's record on immigration. See the details on the debate, who said what: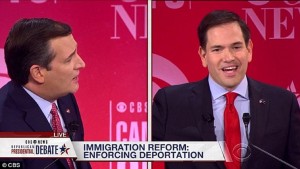 Ted Cruz Blasted on Marco Rubio
Texas Sen. Ted Cruz had blasted out on Florida Sen. Marco Rubio for going on Univision and telling the Spanish-speaking audience that he will not get rid of President Obama's executive action on immigration on day No. 1 of a Rubio administration.
How did Marco Rubio Respond?
Rubio responded back with a blast- 'Well, first of all, I don't know how he knows what I said on Univision since he doesn't speak Spanish'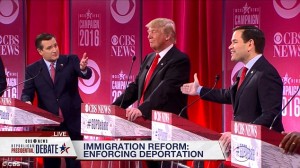 Ted Cruz proves he knows Español
On hearing to Rubio's response Cruz replied back yelling Spanish words. He was very loud and clear on the microphone to prove that he did have some mastery of the language. He said- "Ahora mismo, díselo ahora en español si quieres," which translates to, "Right now, tell them now in Spanish if you want."
Marco Rubio continues to debate in English
When Ted Cruz started yelling in español, Rubio didn't respond in Spanish rather he continued to talk in English. The Florida senator said – "For a number of weeks," he said, Cruz has "just been telling lies… He lies about all sorts of things."
In this debate Ted Cruz referred to a 2012 Spanish-language Univision interview, this interview was conducted with Rubio during his second year in Senate.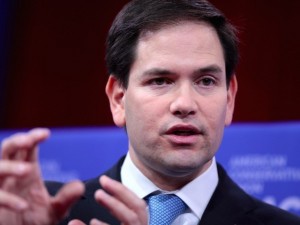 2012 Spanish-language Univision interview: What did Marco Rubio Say?
Marco Rubio said:
"I respect the right of Arizona to have a law like the one it had, but I don't believe that it should be a model for the country. I do want to help those young people who are here undocumented and I'm strongly working to attain this. What I do not support is the manner in which the Dream Act does it. I do want to create a system of legal immigration that works. If we have an immigration system that works, then we are not going to have so many."
The debate continued on the topic of immigration, further turning to focus Jeb Bush. But he did not break out his own Spanish skills.
Image Source: Image 1 & Featured Image, Image 2, Image 3.
News: Dailymail
Meet the Author