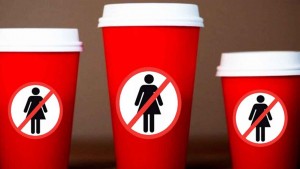 Yes, another case of gender discrimination and this time it's a coffee shop. Females in Saudi Arabia have reportedly been barred from a Starbucks café because a gender serration wall in the coffee shop.
The Female customers were not allowed inside the safe, instead they were told to 'send their driver' to pick up their drinks. However, the 'gender barrier collapsed after a religious police noticed the incident.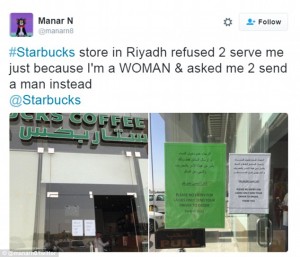 Women expressed anger on Twitter
It was first noted by a Saudi woman who posted on Twitter that the Starbucks store in Riyadh refused to serve her just because she is a woman and instead she was asked to send in a man to order on behalf for her.
The women also posted pictures on the social media, this was the Posters outside the shop. She angrily stated that that women were not allowed to enter this Starbucks café and it is a case of gender discrimination.
What did the Starbucks Poster read?
"Please no entry for ladies, only send your drivers to order. Thank you."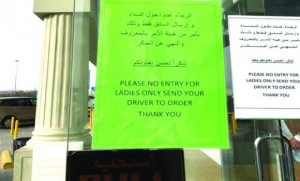 Why were women not allowed inside Starbucks café in Riyadh?
Reportedly the Saudi cops had enforced the ban after a gender-separating wooden wall kept collapsing. The Commission for the Promotion of Virtue and Prevention of Vice, had ordered the café's management not to admit women following an inspection. This is the most influential law enforcement authority.
It is said that the commission issued the notice post its inspectors spotted the collapse of a gender-separation wall during their routine walk around the market in the capital Riyadh. According to the management they had told police that the wall had collapsed on a number of occasions because of regular customer stampedes.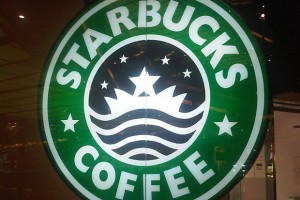 What Starbucks has to say about this?
According to Starbucks, the Starbucks in Saudi Arabia is adhering to the local customs. They are providing separate entrances for families as well as single people.
They also told to a Cosmopolitan.com that the Starbucks Riyadh store was undergoing a renovation, which is to build a divider that will accommodate single people as well as families. They denied the claims a gender-separation wall had collapsed.
Further they added that all their stores provide equal amenities, service, menu, and seating to men, women and families. And they working as quickly as possible so that they can welcome all customers in accordance with the local customs.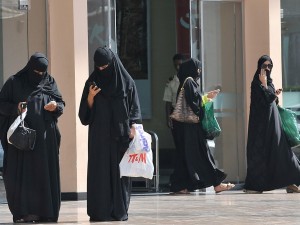 Saudi Arabia is very popular for its gender segregation. Here women require a male guardian approval in order to travel or work outside the house. Moreover, in public places, like restaurants, beaches, amusement parks or banks, females are required to enter and exit through special doors.
Image Sources: Image 1, Image 2, Image 4, Image 3, Image 5, Featured Image.
Meet the Author