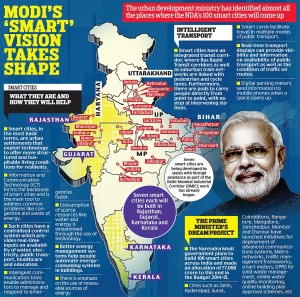 The Indian government has finally announced 20 cities which will soon be transformed into Smart Cities. These cities are now all set for a makeover of 50,800 crores, post which they would turn into 'Smart Cities'.
These smart cities will be top loaded with highly advanced infrastructure, sustainable real estate, communications and market viability. According to reports the facilities will be quite comparable to Europe. The cities will be provided with adequate funds to solve problems like, power cuts, poor sanitation and traffic.
7 Interesting Highlights About Smart Cities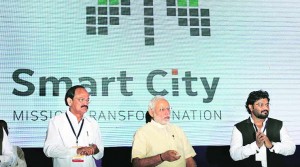 1. List of cities which will get this makeover
20 cities list has been announced by the Indian Government which include, Bhubaneswar, Pune, Jaipur, Solapur, Davangere, Indore, the New Delhi area, Coimbatore, Kakinada, Belgaum, Surat, Kochi, Ahmedabad, Jabalpur, Visakhapatnam, Udaipur, Guwahati, Chennai, Ludhiana and Bhopal.
2. Last year 97 cities had submitted their plan
2015 December, 97 selected cities submitted their plans to the ministry. They were given Rs.2 crore each at that time
3. Selection of smart cities
The names which were finally picked for this first list were picked from a list of 97 cities, which were submitted by the states during the competition of last year. The final selection was made based on service levels, infrastructure and track record.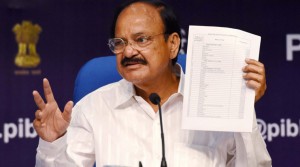 4. Selection was tough
According to the Union Urban Development Minister Venkaiah Naidu, there was tough competition between all the cities.
5. 13 Cities are highly polluted
Thirteen of these going to be smart cities are most polluted according to the World Health Organisation
7. Uttar Pradesh, Bihar & West Bengal could not make it to this list
The first list doesn't not have any city from the states of Uttar Pradesh, Bihar and West Bengal. But at the same time, few states had two nominations.
7. Pass test to qualify
The states and local administrations had solved a template with 43 questions and needed to give "smart answers" to qualify for this race.
List 2 is coming soon in April 2016. The cities who couldn't make to this list will be asked to get their act together and focus on deficiencies. Prime Minister Mr. Narendra Modi has promised to 100 new smart cities in India by the year 2022. These cities will have internet connectivity, e-governance and infrastructure.
Image Source: Image 1, Image 2, Image 3, Featured Image.
Meet the Author