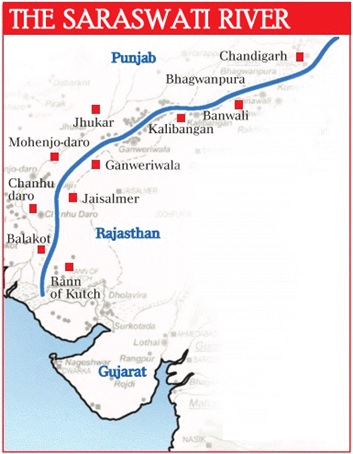 India is a country of divine rivers. The Indian culture has been grown and populated at the banks of various rivers. Saraswati is one of the holy rivers, which is worshipped in India. Saraswati is a major Rigvedik river mentioned in Rigveda, Vedic and post Vedic timelines of Sanskrit texts. However, in the modern India, there is no such physical presence of the river Saraswati.
The Triveni Sangam is made of three rivers; Ganga, Yamuna and Saraswati. Among these, the river Saraswati is invisible. It is said that this river flows underground and joins the above two rivers from below. Their point of confluence is at Allahabad, which is a sacred place for Hindus.  Moreover, I would like to point out some more facts and religious significance about the Saraswati River: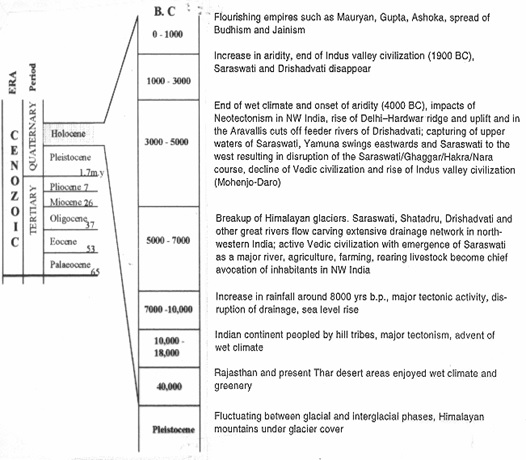 1. The Saraswati River flowed in ancient northern India. The goddess Saraswati is said to have a personification of river Saraswati; but later developed an independent identity.
2. 4000 thousand years ago (between 6000 and 4000 BC), the banks of the great river Saraswati provided great civilization, green and fertile land for farming.
3. The river Saraswati helped in sustaining the great Indus Valley civilization as the Indus civilization was largely located in the proximity of the bank of Saraswati.
4. The Vedic text mentioned that the Saraswati River dried up in the desert as it became the Goddess Saraswati herself.
5. According to satellite images of ISRO and ONGC, the Ghaggar-Hakra River is identified as the Vedic Saraswati River. The Ghaggar-Hakra River flows in northwestern India and Pakistan terrain.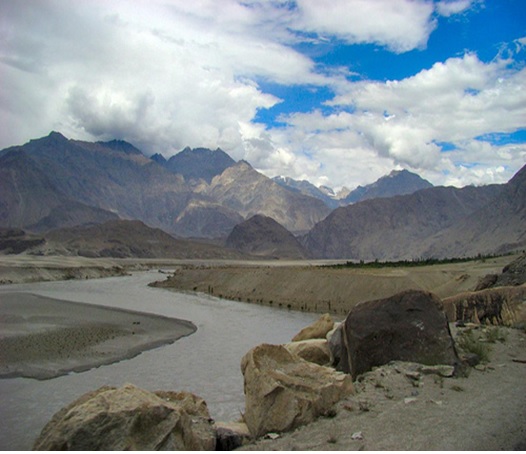 6. The Saraswati River is described to be much bigger than great Indus River and Sindhu River.
7. The Saraswati River was probably 1500 km long and 3–15 km wide. Rivers originated from the glaciers. Saraswati River had originated from Bandapunchmasiff (Sarawati-Rupin glacier). According to Rigvedik literature, the melting of glaciers is the outcome of a war between God Indra and the demon Vritra.
8. It is believed that Parashuram, the sixth incarnation of Lord Vishnu purified himself in the River Saraswati after ending the race of Kashtriya.
9. Many religious organizations follow the belief that an invisible Saraswati river will reveal the concept of the golden age of Hindu India. In the year 2015, it is reported that the government of India ordered an Archeological search for the ancient river.
10. Saraswati River consists of a sacred place in the Hindu mythology. Lord Kartikaya, the son of Lord Shiva, was appointed as the commander of god's army at the bank of Saraswati River.
It has been established that Saraswati River is not a myth. The satellite images and archeological researches have proved the existence of the river. However, more advanced studies need to be carried out to reach on the conspicuous technical point about the holy Saraswati river.
Image source: Image1, Image2, Image3, Featured Image
Meet the Author